Day 1 (Sunday, 27 August 2006): 58.78 miles, 6:27 hours, Pampignan to Le Pla
Note to self: actually do some preparation next time.
So I get dropped off at Pampignan at nine this morning. I'm right next to toll gates for a motorway, feeling quite shady after a sleepless night on a bus that travelled overnight from England. I should probably go and find some place to sleep right now.
But no. After loading my bike with the panniers, I'm straight into the saddle and heading west towards the Atlantic. My brain starts to wake up when I realise I'm about to enter the motorway. When I get back to the toll gates where I started I have one of guards shouting at me very angrily. Pity I don't understand French.
I finally find the road that takes me out of town and along the northern side of the mountains. I've got copies of a Lonely Planet guide for a Mediterranean to Atlantic route that I'm meant to be following. I'm already cheating. I was about ten kilometres away from the Mediterranean when I started, I could see the blue waters from the bus. At the time I thought there was no way my lazy arse was going to pedal a twenty kilometre round trip to the coast just to say that I'd been there and done that. But now I'm regretting it.
I'm also cutting the first planned two days into half, sidestepping the mountains for the first day. If I'd planned a bit better I would have done things differently. It's not like I didn't have the time to plan…
…Here's how planning the Leon-way goes:
Enjoyed my last trip to France so much that I figure I want to do it again, this time with some hills.
Find a bus that takes bikes all the way down to the Pyrenees. Bike express have a regular schedule during the summer but with only a few weeks to spare and the route I've chosen it looks like I've got eleven days to get from point A (on the Mediterranean) to point B (on the Atlantic), about five hundred kilometres at the most.
Yeah, I can do that, no sweat. Book the bus trip.
For three more weeks (I work on a boat) I do nothing; no other planning, no training in the gym. Zilch.
I get home. I've got a whole week to prepare and train for the trip.
Instead, I go out every night drinking and catching up with friends.
Day before I'm scheduled to leave I pack my panniers with too much stuff I don't need and do a test ride down my street.
All good, I'm ready to go.
My left pedal is clicking away madly with every turn. Didn't make that noise when I rode it to the end of my street.
It was a bright, warm day and easy riding along a highway for most of the day. The mountains stayed menacingly to my left until I turned towards them at Axat. The road squeezed itself through the stunning St George's Gorges; steep sharp rocks towering above either side of the road and river. By then it was half-past four, my legs felt hollow and I was feeling very burnt out. It was another five, very slow, kilometres up the beginning of tomorrow's first hill before I started seeing the first signs indicating a campground. It was not until I'd ridden several kilometres more up ten percent grades that I finally crumbled into the campsite at Le Pla.
Easy.
Day 2 : 53.13 miles, 5:15 hours, Tarascon-sur-Ariège
I dropped off dead to the world early last night and ended up waking quite a few times before morning. It was good to have a proper breakfast of rice porridge, flavoured with a scoop of Nutella and peanut butter. I definitely don't do these bike trips for the food, that's for sure.
I dropped the few miles back into town and then began the climb to my first Col of this trip. One of the bigger ones as well, Port de Pailhères, standing tall at 2001 metres. If this is what the rest of the trip was going to be like I should probably give up now. I struggled up a small road painted with the names of past Tour de France heroes. "Allez Allez" screamed out at me from the road in big white letters. It's the first and last time I'll probably use sunscreen on this trip, the sweat just dripped it painfully into my eyes.
At the windy summit I was greeted by a round of applause from a group of old folk. They invited me to shelter with them behind the only small building and bombarded me with questions in Spanish and French. Then one of the blokes tried to lift my bike and stepped back in shock when he felt the weight. I was invited to lift his bike, which I could have probably done with a finger. There were laughs all around. The rider of the bike was seventy years of age and asked me to feel his pulse. His pulse was slow as if he'd been sitting on his arse relaxed all day rather than having just climbed a mountain several minutes earlier. My pulse was still hammering away as if I was still riding. I give him a small respectful bow, half in jest, half in awe. I hope I'm still riding my bike at that age. Geese, I hope I'm still alive at that age.
They offered me food and then they were off; the five of them in the car following the seventy year old on the bike who'd just taken off down the hill.
I took off in the other direction towards Ascou. It instantly reminded me of why I was doing this trip. It was for the downhills. And the steep, hairpinned descent was over all too quickly. The ski resort towns lining the road on the way down were a blur. Before long I was already slowing down and starting another climb. This one not so big, the Col de Chioula at 1431 metres. Still, I was wishing for it to be over at every pedal stroke.
From the summit I could see the tips of other Pyrenean mountains along the Spanish border. The downhill was again, f***ing awesome. The road wound down through tree-studded hills and past small streams. It was small rolling hills the rest of the way into Tarascon.
Piece of piss.
The hills:
1. Col de Pailhères: altitude = 2001m; dénivelé = 1216m; distance = 15km; grade = 8.1% average, 10% max.
2. Col du Chioula: altitude = 1450m; dénivelé = 495m; distance = 5.71km; grade = 5.6% average, 8.5% max.
Day 3 : 50.56 miles, 5:14 hours, Seix
I had another restless sleep in the morning, waking up every time I needed to turn over. Maybe my body's idea of comfort is changing as I get older.
The road out of Tarascon rose very gradually to the town of Vicdessos. Dozens of cyclists passed me regularly all the way. The road up to Port de Lers began just outside of town. I tried to follow a group of cyclists but the starting 16% gradient slowed me down…just a little.
A man, looking at least seventy years old passed me with his head down and legs turning steady and surely like clockwork. I pulled in behind him, he didn't seem to mind me chasing him. It was good to have a reference and be able to maintain a steady pace. I couldn't keep it up for long and eventually stopped to stuff my face with bananas and chocolate. Towards the top I was passed by more cyclists, some calling out "Bravissimo" as they passed, one saying "You must be very tough!". "No, just very stupid," I replied. Switchbacks eased me towards the summit, with the wind at the top letting me know I was close.
Rewarded myself at the top with my first fatty French sausage of the trip. So much of it gets stuck in my teeth that I can continue snacking on it for the rest of the day.
It was a short and sweet downhill to the start of the next climb. Col d'Agnes was a series of steep switchbacks all the way to the top. It was a lonelier summit. All the cyclists seemed to have passed me by now and I was left to look at the splendid, desolate grey mountains on the other side by myself.
The steep and winding downhill was definitely worth every puff of exhausted breath I spent getting up it. I dropped into the town of Aulus-les-Bains where the driver of a cycling tour support van gave me a bottle full of fresh cold water and wished me luck. It was straight into another climb, Col de Latrape, quite a bit easier than the past two. Another wicked downhill into the Vallée d'Ustou, following along the tiny river Alet.
I got into Seix and after some misdirection from the tourist office map eventually found a campground a few kilometres out of town. Considered going back into town but once I got settled into a bag of pistachios I wasn't going anywhere.
The hills:
3. Port de Lers: altitude = 1516m; dénivelé = 801m; distance = 11.5km; grade = 7% average, 9.5% max.
4. Col d'Agnes: altitude = 1580m; dénivelé = 270m; distance = 4.8km; grade = 5.6% average, 8% max.
5. Col de Latrape: altitude = 1110m; dénivelé = 365m; distance = 5km; grade = 7.3% average, 8% max.
Day 4 : 49.25 miles, 5:09 hours, St Béat
Woke up at three this morning to the pitter-patter of rain on my tent. A quick dash in my birthday suit was in order to retrieve my clothes hanging from a nearby tree. I had a restless sleep until my alarm went off but it was still raining. Delightful thoughts of spending a much needed rest-day inside my tent eating pistachios and doing sudoku crossed my mind as I drifted back to sleep. When I woke an hour or so later the rain had cleared.
The scenery up to the Col de la Core was gorgeous. The low, bright white cloud surrounding the road meant it was impossible to know how far the summit was. When the sun started to burn off some of the cloud, the humidity left me sweating like a fat man in a cake shop.
When I eventually reached the summit after an hour and a half of climbing it was still covered in cloud and I could barely see the road fifty metres ahead of me. I finished off a greasy sausage and half a block of camembert. One day I'm sure my arteries will thank me for that.
I descended to below the cloud level to wonderful views once more and threaded my way towards the start of the climb to Col de Portet d'Aspet. This climb was unmarked unlike others which often have mileage markers all the way to the summits. It made it difficult to judge where the climb began but I was left with no doubt after leaving the town of the same name; the road rose quickly in a series of long switchbacks to the top. It was relatively short, I could almost see the top from the bottom.
At the top I got more water from an unmarked fountain, I figure French water can't be too bad and a few exotic sounding parasites won't do much more damage to my already sorry digestive system. I'm glad I rode up the hill from the East; the downhill had sections of 17 percent grades mixed with plenty of blind corners to keep the senses sharp.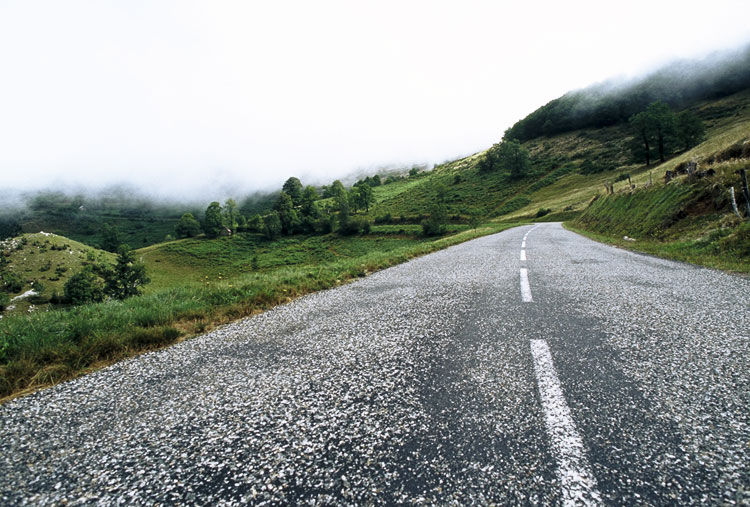 The descent didn't even pause to level out before the climb to Col de Mente started. It seemed like a long climb but it was worth it for the wicked fifteen minute downhill to St Béat. For most of the descent it was possible to see a long way ahead so it was easy to get up to 40 mile per hour speeds. At those speeds it was also a little nerve racking on each bend with my shuddering, screeching brakes leaving me with little faith.
Got a good tent spot in town next to the river and watched bats duck and dive for insects in the slowly fading light of dusk. A few other touring cyclists joined me in the campground. Andrew, an English touring cyclist, was heading along the same route as me and having as much of a struggle as me. Another young English couple were heading in the opposite direction. I felt a little guilty mentioning the 17% grades they had in store for tomorrow.
The hills:
6. Col de la Core: altitude = 1395m; dénivelé = 855m; distance = 13km; grade = 6.6% average, 8% max.
7. Col de Portet d'Aspet: altitude = 1069m
8. Col de Mente: altitude = 1349m; dénivelé = 740m; distance = 11.1km; grade = 7% average, 8% max.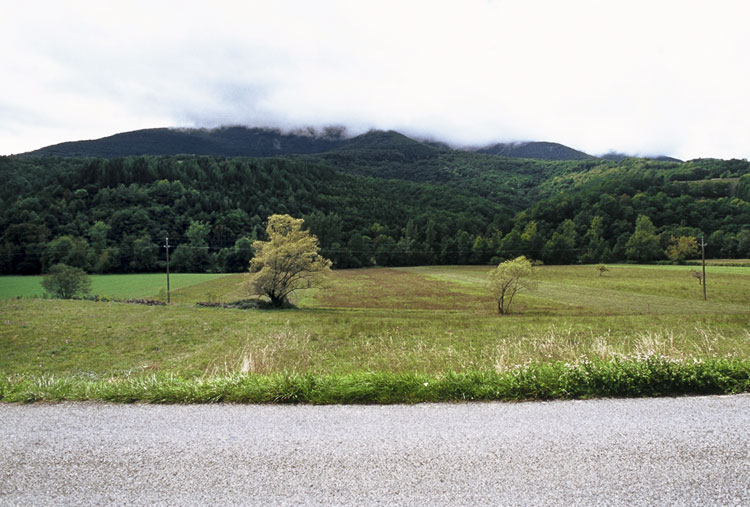 Day 5 : 45.25 miles, 4:57 hours, Arreau
The shadows from the mountains made it a cool start for the day but it was pretty soon heating up. I crossed the border into Spain, greeted by large warehouse stores offering cheap cigarettes and alcohol. If the English all go across to France to pick up cheap smoke and booze and if the French all go across to Spain to get theirs, where do the Spanish go? I stopped in to get some cheap Cuban Cohiba cigarillos, something I like to indulge in on these sorts of holidays.
Thick forest kept the hot sun off me for most of the climb to Col du Portillon. My left knee gave a few twinges on the way up, by halfway it was really starting to hurt. I rested as often as I could, trying to fix the pain my putting pressure on the kneecap, but within a few metres of starting again the twinges would be back. By the time I reached the summit the "twinges" were causing me to cry out in agony on almost every pedal stroke.
I rested at the summit, joined by other amused drivers watching the wild horses take over the road. They'd just stand in front of oncoming traffic as if they were border patrol guards.
I rolled back into France and through the large spa town of Bagnères de Luchon. Finally managed to restock my dwindling supply of peanut butter. Hard to find here though Nutella is everywhere.
The ride up to Col de Peyresourde was a bitch of a long and steep climb. The unrelenting heat and the lack of shade added to the misery. Will have a bright pink nose now. My knee continued to piss me off. At the end of the hill were four long switchbacks which gave fabulous views of the road I'd just climbed. When I saw the switchbacks I dropped to the grassy verge for a half hour nap. I was buggered. The switchbacks seemed to take an eternity to climb, the descent down the other side couldn't have come sooner.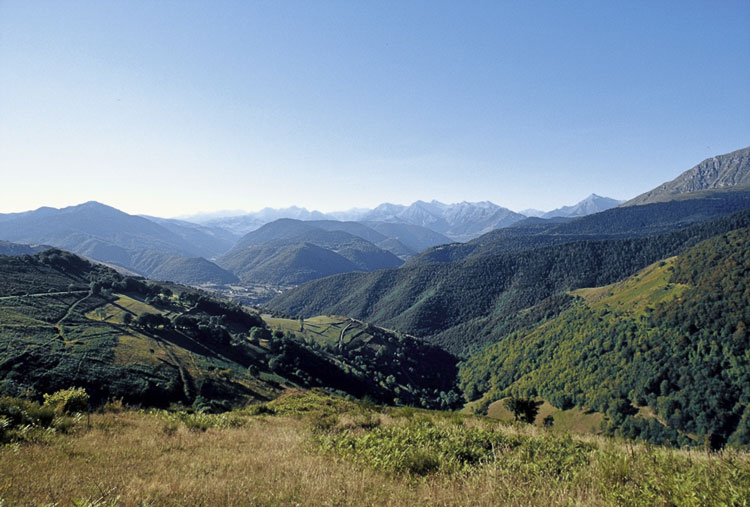 Arreau. Another campground. Another river. Another head spin-inducing cigarillo. Another mini-bottle of vino and another bag of pistachio nuts. Another Sudoku puzzle. What more could I want for? … well, maybe a rest. A new knee.
I can't remember one climb from another now, it's just an exhausting blur.
The hills:
9. Col du Portillon: altitude = 1320m
10. Col de Peyresourde: altitude = 1569m
Day 6 : 51.02 miles, 5:35 hours, Argelès Gazost
Finally got a sleep-in this morning. The two mini-vinos last night may have helped. The day's riding started right into the climb to Col d'Aspin, mostly shaded on the way up, but exposed to the already hot sun near the top.
My LP guide said the Col d'Aspin was the most attractive of the Cols, but I beg to differ, I've enjoyed several of the previous more. My knee gave me big problems for most of the way up, I couldn't help but cry out uncontrollably at times. I had to leave my left foot unclipped as I could no longer twist and release it from the pedal. Some near misses on falling completely off the bike as it is my usual leaning foot when I stop.
It was an awesome twenty minute drop to the small village of Ste-Marie de Campan where I reenergised myself on lunch and fresh water from a fountain there. The first couple of kilometres of the climb to Col du Tourmalet were gentle rolling hills. The road started climbing up through forest and avalanche shelter tunnels to the ski resort of La Mongie. Most of the cyclists that had passed me on my struggle up had stopped at the resort for lunch but I kept going. The heat and knee pains were doing strange things to me. I was getting mad. I had sweat dripping everywhere, salt marks patterns on my shorts and shirt. I kept on growling "Allez! Allez!" loudly to myself, in an effort to spur me on to the top that I could clearly see from four kilometres away. It was frustratingly slow to get there.
About three hundred metres from the top a very old man and his friend slowly overtook me. I couldn't believe I was getting passed by someone old enough to be my grandfather. "Allez! Allez!" I yelled at him and took off in a mad, albeit slow, dash. Head down, legs slowly pushing as much as they could. The old man was way behind, of course he was probably thinking I was a loony. The strange looks on the faces of others that were watching me confirmed it.
I got there.
 Later the old guy, Jean-Baptiste and his friend Jean-Michel approached me and we tried to converse as best we could. Jean-Baptiste was seventy one years old with scars on both of his knees, he'd had two knee operations on each! What a legend. I shook his hand and gave him a bow in praise.
Being such a famous climb, it was a little crowded at the top. I tried to get some water from the restaurant at the top but for some reason they didn't have running water at the time. She could only share a cupful of their remaining bottled water for me, which was appreciated.
The road down was quite crappy at the start, quite potholed, but it got better and faster. I thought I had an easy forty kilometre descent but pretty soon strong head winds slowed me down.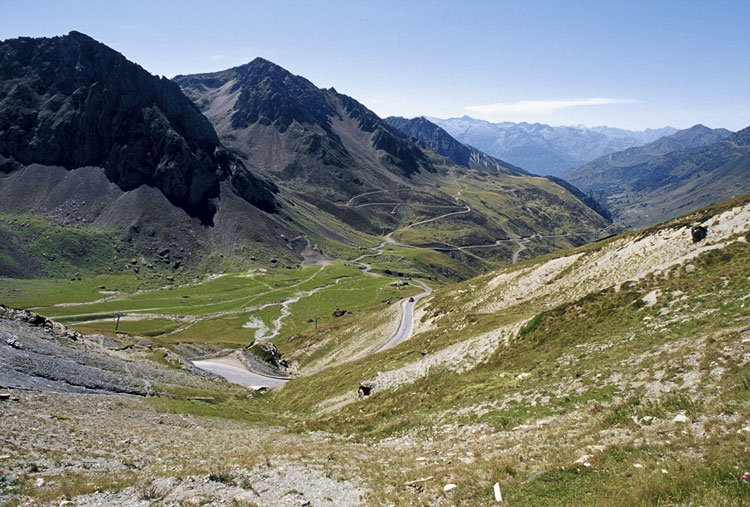 Got food on the outskirts of town and headed to the first campground I saw signs for. Just a grassy field with some trees and a farm shed. Nice.
The hills:
11. Col d'Aspin: altitude = 1489m; dénivelé = 690m; distance = 12km; grade = 4% average
12. Col du Tourmalet: altitude = 2114m; dénivelé = 840m; distance = 16.9km; grade = 4.5% average
Day 7 : 35.86 miles, 4:24 hours, Laruns
It rained softly last night. I woke up after dreams of favourite people but still felt exhausted from yesterday. Tourmalet Syndrome.
I took my time. It was hard going. Straight out of town there were ten percent inclines along the main road. My knee was already giving me troubles and I seriously considered skipping the first Col. It was off the main road and only added several miles of uphill to the journey. The thought that I could miss out on a potentially wicked downhill kept me sticking to the plan though.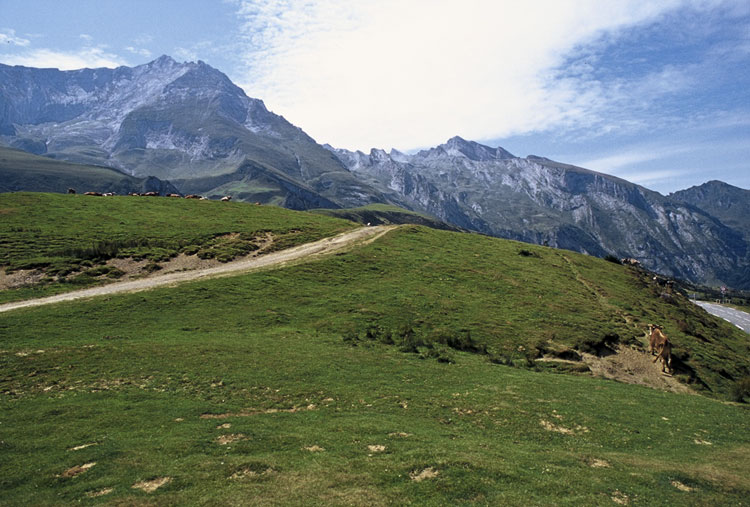 The humidity was like the tropics. No wonder my pannier gear smells so bad, I sweated all over them. The tiny side road wound through a small village and then along a valley. When the road started to head up to the summit it was steep. Some places it felt like more than ten percent. The summit was between mountain peaks and because it was relatively low there were several farmhouses at the top. The small road descended down the other side with brilliant views of the mountains in front of me, still yet to climb.
I started the climb to Col du Soulor after my lunch break in Arrens. The Col was a steep bastard. I stopped many times to rest, once beside a herd of cows all wearing bells. It was like a out-of-tune choir of bell ringers.
 I eventually got to the top after an hour (average 4.5 miles per hour to climb it) and it was a short drop to the start of the climb to Col d'Aubisque. The picturesque road hugged the side of the steep mountain and threaded through two short tunnels.
It wasn't too difficult to get to the top. A group of French tourists spent about five minutes interpreting my map, eventually being useful enough to point out where I was. As if I didn't already know.
I hung out at the top a while where feral horses grazed amongst the parked cars. I swapped stories with Jordi and Jeff and who'd spotted me yesterday on Tourmalet. They were credit card touring from Barcelona and looping back to Pamplona. Both were suffering the effects of Tourmalet Syndrome as well. On top of that, Jeff's stomach was playing up from eating too much cheese.
 Another wicked downhill to the turnoff to Laruns. The LP guide suggested I ride another forty-five kilometres and over one more col for the day. Screw that. While I was contemplating the stupidity of carrying on, a car pulled up and out jumped Jean-Michel.
I rode into town and unfortunately took the first campground I could find. Bit of a shit-hole really. But it did have fantastic views of the mountains on either side. Actually, probably anywhere in town had good views of the mountains. Ok, so it had nothing going for it.
Totally shagged.
The hills:
13. Col des Bordères: altitude = 1156m
14. Col du Soulor: altitude = 1474m; dénivelé = 915m; distance = 17km; grade = 7.5% average
15. Col d'Aubisque: altitude = 1709m; dénivelé = 351m; distance = 7.5km
Day 8 : 77.84 miles, 7:19 hours, St Jean-Pied de Port
What a pr**k of a day. I woke up with Tourmalet Syndrome still persisting and my knee hurt from the moment I left my tent. An early start was in order to make up for my short day yesterday.
It was an easy start, ten kilometres downhill. I ruined it for myself by thinking about all the effort I would need to recover the height.
I followed a group of slow riders up towards the summit. It was mostly through pine forest with some clearings towards the top. The downhill was fast. I even got up to seventy five kilometres per hour. Got to Escot at eleven where I realised it was Sunday and there was nowhere open to buy food. I was half a day behind my LP guide schedule but by this stage I was beyond caring about catching up. I just wanted food.
It was good to have a stretch of almost forty five kilometres of easy riding. A short steep bastard of a climb took me up to the small town of Larrau. It must have had inclines well over fifteen percent. Thank god it was short. Larrau had a lovely looking campground but I searched the town up and down for a food shop but come up with diddly-squat. I had to go on.
It was a nice little downhill for a kilometre or two and then the road began ascending a true c*** of a hill, Col de Bagargui. It was ten kilometres of climbing but the first seven kilometres were unmarked. I had no idea of how far I had to go. It was doing my head in. Very f***ing steep and exposed to the cruel sun all the way. I was almost relieved to finally get to the first roadside marker; three kilometres to go with an average gradient of twelve and a half percent.
"Twelve point f***ing five percent?", I yelled in anger at the nonchalant cows chewing along the edge of the road.
My speed was about three miles an hour and I was permanently stuck in my granny gear. I could have actually done with some extra gears. It felt like the toughest f***ing climb I've ever done.
It seemed an eternity passed before reaching the two kilometre marker. Now only eleven percent grade. "Eleven f***ing percent?", I screamed at the hill. I passed a overheated car that had passed me a few minutes earlier. A few other cars passed me and by this stage I was cursing everything loudly. My head was a mess.
 One kilometre marker. Nine percent grade.
I finally get to the summit which turns out to be just another bloody viewpoint overlooking some bloody mountains. I got more water, washed the sweat of my face and ate the last of my dried apricots, bananas and chocolate. The road dropped pleasantly for a few minutes then gradually turned into the relatively short two kilometre climb to Col de Burdinkurutz. The descent was truly incredible. The road hung along the side of a ridge for a while with clear views of the valley below. Very fast again and it was easy to get to speeds of seventy kilometres per hour again.
I got to town at seven and still couldn't find anywhere for food. It was the last of my plain rice for dinner. Plain rice and Nutella followed for desert. Not the most nutritiously satisfying meals I've had.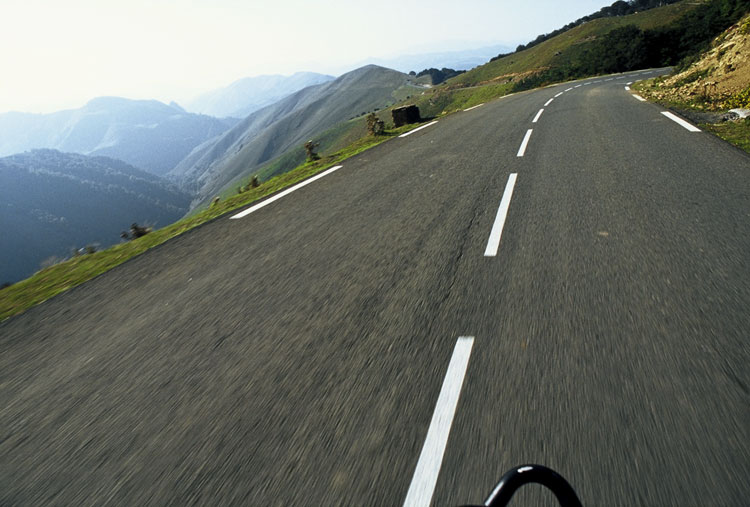 Andrew, the English cyclist, was again in the campground and we swapped our sorry stories. He'd skipped today's Cols but was planning on making up for it tomorrow by heading back into Spain to do to more Cols. He's got me thinking of throwing in my relatively easy day tomorrow in order to do the same. The downhills are calling me.
My right hip now aches because my right leg is doing most of the work. My back feels like it's out of alignment because my right hip aches. My neck hurts because my back feels out of alignment. I'm getting headaches because my neck hurts. The voices in my head are telling me to kill people because of my headaches.
The hills:
16. Col de Bagargui: altitude = 1327m
17. Col de Burdinkurutz: altitude = ???m
Day 9 : 54.44 miles, 4:50 hours, St Jean de Luz
Was at the town's supermarket by opening time and stocked up on more fatty sausage and camembert. I must have been famished, the camembert didn't even last until lunchtime.
Took a main road out to the lovely town of St Etienne de Baigorry where I stopped to kick start myself with double espressos. The climb to Col d'Ispéguy, or "Izpegi" as it was called on the summit, was almost relaxing compared to the others on this trip. Another brilliant downhill into Spain, though there was no indication that I was entering another country except for the cheap booze and cigarette shops that littered the border. Wearing a bicycle helmet is compulsory in Spain, so with the temperatures hitting thirty degrees Celsius I could feel every bit of it.
 There was a small bump of a Col to conquer, Puerto de Oxtondo, and then it was rolling back across the border into France again. I didn't even spot the last of the Cols, Col de St Ignace, but hundreds of pilgrims' cars lined the road. A railway there takes them to some fountains on the border.
It was easy riding into St Jean but along busy roads. I took the first campsite I could find. I could see the beach, about half a kilometre away, from the front of my tent. A good place to finish.
The hills:
18. Col d'Ispéguy: altitude = 690m
19. Puerto de Otxondo: altitude = 602m
20. Col de St Ignace: altitude = 169m
[Map of Bicycle Journey Route]
All photos were taken with Kodak E100VS film.