It was not until I finished making these maps of my travels through India that I realised how great an example of a poorly planned trip it was. I have to admit that I made no plans at all prior to getting there, apart from organising my visa and buying a lonely planet guide that weighed in close to a bulky bible, pound-for-pound. I had no idea at all what I wanted to see, no ideas about the culture, no fondness for meditating on top of mountains, no predilection for spicy foods at all – in fact the idea of being in India scared the shit out of me.

View India in a larger map
The reasons for almost impulsively buying a ticket to Calcutta were too numerous, but wanting to actually be in India was not among them. I'd just been dumped by a girl, just finished "Desolation Angels", was sick of living alone, dying to meet more foreigners and my job was gradually coming to an end so I knew the time was nigh to be saying goodbye to the Philippines. I wanted to get out of there and just at that time received an open invitation from a beautiful friend who was living in an ashram in Southern India (apologies Malene, I hope you've forgiven me by now and I'm proud to say you are still the only person I've ever known to be kicked out of a country and blacklisted from ever returning there…but that's another story).
So armed with a lonely planet the size of a bible and a backpack full of so many "just-in-case" items (ok, it was my first big trip – don't hassle me) I packed in my job and left Manila. And believe me, I hated leaving all the comforts of my daily life that I'd packed up in a box and left with my friend Niko, especially as I knew how prone his house was to flooding…
Calcutta
Ok…
So bad planning includes arriving in Calcutta at midnight and not having booked any accommodation for my first night in India. I have no idea what I was thinking. By some bizarre stroke of coincidence, or luck, or some big guy looking after me up there in the sky, who should I happen to sit next to in a Singapore-to-Calcutta flight full of Indians? An Australian business man.
The guy was more than kind enough to let me crash in his luxurious room at the Calcutta Hyatt.
I hated Calcutta enough to want to get out of there as soon as possible. Living in Manila had already prepared me for seeing the extremes of a third world country, but Calcutta was too much. It wasn't until I returned at the end of my trip that I really learned to appreciate the city and actually enjoyed getting lost in its maze of alleyways and streets, markets and slums, lush parks and colonial graveyards.
First impressions.
A major reason for my aversion to Calcutta was my gullibility in being clearly and openly duped. My train trip out of Calcutta cost me ten times as much as it should have – the actual value was clearly shown on the ticket as if it was mocking me for being so stupid. I'd also been told by my "friend" who had willingly "organised" my ticket for me in Calcutta that the train to Varanasi was an express and I'd be there within hours.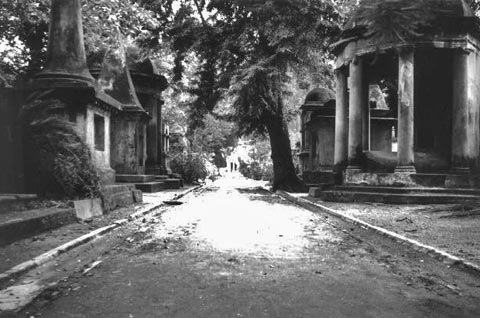 Varanasi
Twenty four hours later I arrived in Varanasi, dehydrated and exhausted. After hearing of some unfortunate traveler's tale of stolen luggage I'd been far too scared to leave my backpack to venture far for water and even more afraid of eating any of the food offered at each town we passed through.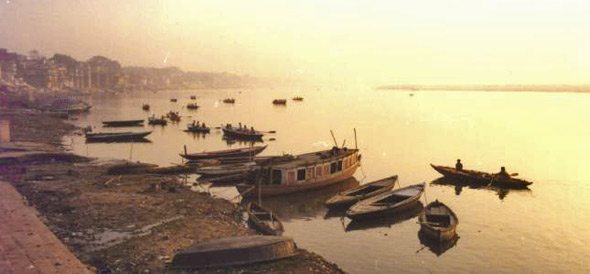 I started to genuinely enjoy traveling in those first few days in Varanasi. I spent afternoons exploring the gats and funeral pyres, watching monkeys play around the temples, the kids play cricket on the banks of the Ganges and spent my time navigating around the sacred cows in the narrow alleyways on my way home each night.
Wish I'd taken more photos.
Agra and Delhi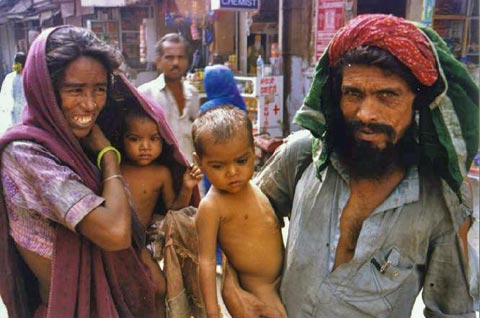 I arrived in Delhi exhausted and weak and very homesick, it was over forty degrees Celsius every day and all I could think about was immersing myself in the cool waters of Perth beaches. I'd just spent the last week in a dirty hotel in Agra, sicker than I think I'd ever been before in my life.
Agra is home to the Taj Mahal which is open every day of the week, though on Fridays the entrance fee is waived. Every other day, foreign tourists have to pay almost ten times the local price to enter the monument. Seeing as I had a few days to spare, and the appeal of not having to dig into my very deep pockets, I decided to hang around until the Friday. A error on my part, not just because of the sickness that was to come, but because there really isn't that much to see in Agra unless you're interested in buying overpriced Kashmir rugs.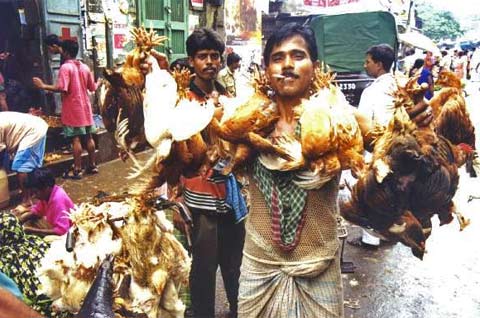 Come Friday morning, six a.m. I was at the gates of the Taj and one of the first in line – my eagerness not so much to be first to see it for the day, but more so that I could get it over and done with and get out of Agra as soon as possible. The Taj itself was nice, but I was not all that impressed, probably because I've always been the type to be more impressed by natural wonders.
As I was just about to take my first photo of the day, my camera batteries died, I remember thinking this was quite funny, as I'm sure the Taj must be one of the most photographed man-made structures in the world and who needs another photo. I decided I'd come back later in the day once I'd bought more batteries and once I'd seen the Red Fort and the Baby Taj, the two other Agra monuments that also happened to be free on the Friday.
On my way to the Red Fort by tricycle, I suddenly felt my stomach start churning – woo hoo! – I was gonna chuck. With clenched butt cheeks and desperation in my eyes I asked to be taken as quickly as possible back to my hotel. Every pothole and bump made the trip seem like an eternity. I spent the next three days shitting and vomiting every hour, on the hour. To get out of bed and buy food was almost impossible for me, the hotel clerks saved my life with supplies of yogurt, plain rice and flat lemonade, even though it was a challenge to keep any food down for more than an hour. I spent the days on my back, homesick as hell and fantasising about the creature comforts; drinking water straight from the tap, cold, surfing the waters off Trigg, tasty beers from the fridge and Cadbury's chocolate.
So no photos of Agra.
Once I got to Delhi, it was easy an easy decision to leave as quickly as possible and head North to cooler places.
Srinagar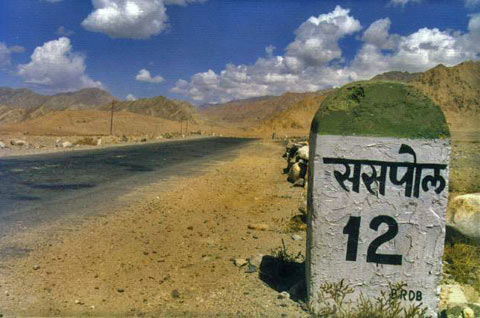 After Delhi's sweltering temperatures, Srinagar was a pleasant relief. We stayed on a houseboat on the main lake and were taken care of with three enormous Kashmiri meals each day provided by our dexterous servant/ waiter/ cook/ advisor guide/ masseuse. It was a perfect way to recover. The distinct lack of tourists and the often dubious nature of Kashmir house boat owners didn't stop us from spending a full two relaxing weeks there. This included a sideline camping trip to Gulmarg, home of the world's highest golf course and from where we could see Indian troops camped along the disputed Pakistan/Indian border.
The military presence was everywhere in Srinagar, and it was impossible to go a day without being stopped at military checkpoints, more often than not to provide the soldiers a break in the monotony of their routine days. Some would even buy us lemonade and snacks while complaining that the houseboat owners caused them more problems than local militants.
Having fattened up substantially on good food, it was time to leave Srinagar and head east towards Leh. Ignoring the desperate warnings of our houseboat owner that parts of the road had been destroyed by Pakistani bombings, we booked one of the first bus trips across the mountains for the year. Being an important military supply route, this also meant that we shared the road with a convey of literally hundreds of Indian military trucks.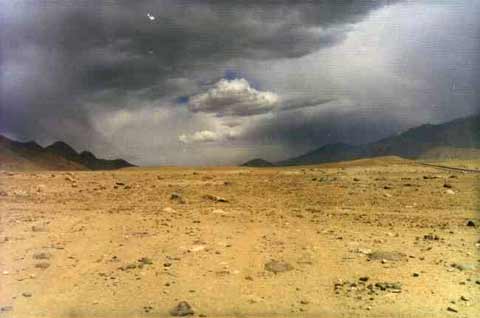 Srinagar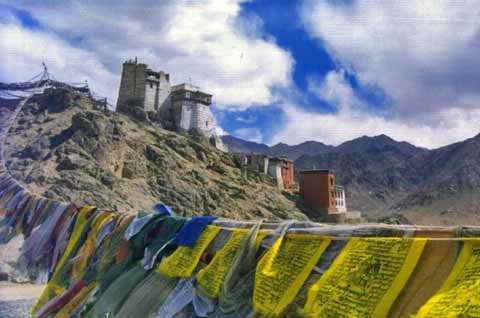 At six a.m. on the second day of our trip to Leh I suddenly decided I needed to travel by myself (apologies, Malene). Somewhat inspired by a lone Korean traveler that I had met the night before in Kargil, I jumped off the bus at Lamayuru and hoped that I would still somehow get to Leh, though not via bus. According to plan, the Korean, a professional photographer who spoke barely a word of English, soon stopped by in his own overpriced, rented taxi. Maybe it was his lack of English, or my lack of straightforwardness with my plan, but within a few minutes he was on his way to Leh without me.
Two days later, after hitchhiking with water trucks and camping on the side of the road, I got to Leh in desire of a good meal. By now I was brave enough, actually stupid and hungry enough, to eat anything that was offered to me by complete strangers. I figured if I'd already been as sick as I could imagine then there wasn't much chance of getting worse.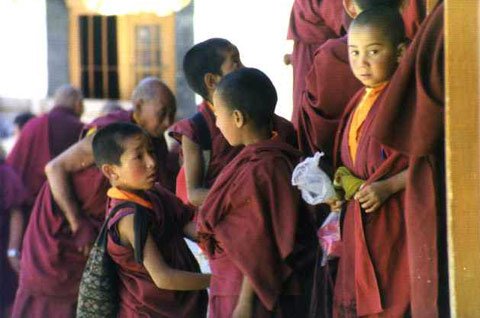 By now I was also something of a stool expert and every other tourist I met seemed to have similar qualifications. A friend back in Australia, who had recently had a baby described his theory that there should be a greater vocabulary to cover the different kinds of stool (thanks Daryl):
"… as the eskimoes have many words for snow and ice, and the Hawaiians have many words for the sea, I believe we should also have many words for turds. It's a simple extension of our vocabulary. And in this modern age where time is precious why should we spend time on long descriptions when simple words are enough? Wonderful terms such as 'Darkie', 'Mr. Whippy', 'Tar-Baby', 'light 'n' easy', 'Albino', 'Phantom', 'snake' …"
Leh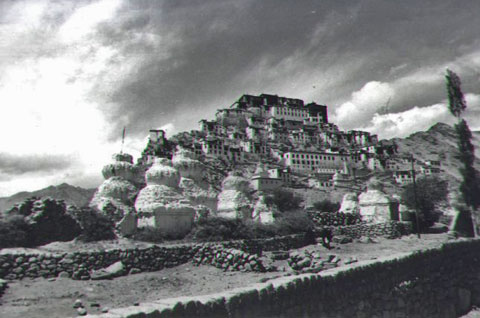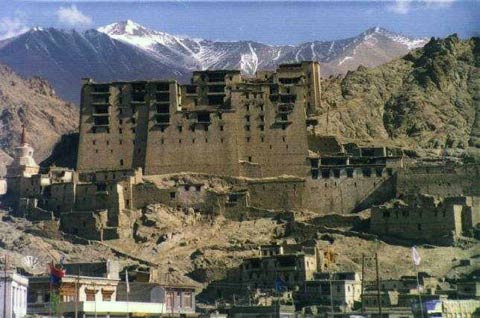 Leh was a great town; anywhere you can walk down the middle of the main street in the middle of rush hour traffic without becoming road kill is alright by me. Plus, mastering the basics of the local language was an easy feat, with the all-purpose "Jule" being Ladakhi for "hello", "goodbye" and "thank you". Tourist season was a month away, so Leh still had all the charms of a sleepy town just waking up from a long winter hibernation with many Tibetans and an equally number of sunny smiles all around.
It was easy to finally catch up with my soon-to-be Korean friend, Hee Gwang, who attempted to educate me in the ways of photographic theory while I attempted to teach him basic English, including the words "exposure", "tone", "speed", "aperture" and "light/dark". While he may not have been such an eloquent teacher, he was definitely an inspiration to take more pictures; a good day for him was getting one good shot out of five rolls of film.
We also spent much of our time each day talking about food and deciding what wonderful Tibetan meal to eat next at the Amdo cafe or which baker to try for fresh Ladakhi bread for our honey and banana breakfasts. After Leh, and later meeting certain German tourists, I realised how great it had been hanging out with Hee Gwang – the lack of English meant that there was never any need for small talk or useless filler conversation.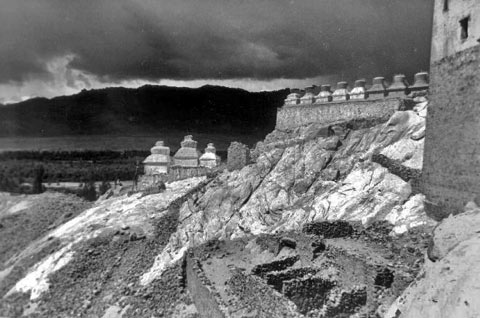 Manali
On leaving Leh, my aim was to reach Manali without suffering the pitfalls of another two-day Indian bus ride. The excitement of seeing the entire back seat completely empty whenever I stepped on a bus was somehow cheapened after twenty hours or so of corrugated and cliff-hugging roads. With this reminder branded across my forehead, I hitchhiked out of Leh to a Buddhist monastery at Hemis, where I got to see snow fall for the first time in my life. From there I somehow managed a ride with an important looking military commander in the lead car of a convoy of a hundred or so trucks. He persisted in reminding me of how small the Australian army was, but was nice enough to insist that I have an army rations lunch with him and his troops at the highest altitude army base camp in India. I worried that he'd also insist on me sleeping the night at the army barracks when we got to Pang, but I didn't even need an excuse as he directed me to the civilian tents, all made from old army parachutes.
The next morning I started walking towards Manali, still hoping to hitchhike, but there were no vehicles at all. About lunchtime a bus finally came along. Two brothers from England that I had met earlier in Hemis were on it, and were quite surprised at finding me wandering about in the middle of nowhere. Of course, the only spare seats were at the back of the bus where we had to suffer fourteen hours of the most terrifying bus driving along narrow precarious roads that I had yet to see. By the time we got to the hill station Keylong, our nerves were so racked that we were brave enough to try and calm ourselves with Indian beer.
Not about to repeat the experience, I left Keylong in the morning on foot again and considered myself lucky to be picked up almost straight away by three Sikhs in a nice jeep; a wheat scientist, his driver and his small son. Like other Sikhs I'd met, they were extremely good mannered and always felt it was their duty to buy me food and chai at any of the rest stops we passed. Turned out that I wasn't as lucky as I'd previously thought. When traffic started slowing down due to a long military convoy, the once placid Sikh driver turned into an impatient speed demon hell-bent on getting to Manali as quickly as possible. This not only meant passing trucks on uphill one lane roads with blind corners but also shortcutting a mile of mountain switchback road by literally driving straight downhill while watched in disbelief by the soldiers in the vehicle ahead of us.
Recovery was easy in the pleasant Indian hill-station town of Manali, where good food was plentiful and every other need was met. I made several side trips to small towns nearby and also rented a bicycle for a day to ride to Mahri, about four thousand feet above Manali and a refreshing thirty five kilometre downhill ride without any pedalling. Manali was filled with tribes of techno-listening, drugged-out young Israeli's fresh out of their compulsory two year military training. I stayed in the top room of a family home overlooking the town, fruit trees and marijuana growing absolutely everywhere it could. I had many interesting conversations with the youngest son, who was just about to get hitched to a beautiful young girl whom he had only just met. He was nervous. We hired a motorcycle and rode to Manikaran, a place with natural hot springs in which you could boil rice, and more Indian tourists. The hot springs in Manali were hot enough such that once you carefully slipped yourself into the water you could only stay for a maximum of five minutes or risk passing out. Two weeks later of all this and more, maybe one or two pounds heavier, it was time to move on to try and find a place devoid of Indian honeymooning couples.
Kibber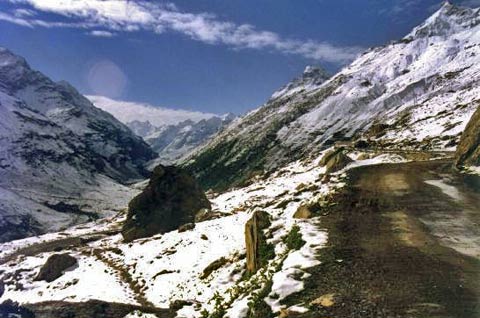 A friend of mine once described the English people as having small talking elves inside themselves. She was referring to the type of people that feel they have to fill every pause or silence with the sound of their own voice. I'd already met a few of them from time to time and I admit that I was often guilty of small talk elvenish myself.
But the person that became the definition of chronic small talk for myself was a German guy called Freddy. I met him on the bus from Manali to Kazar, a road trip that normally takes eight hours, but took us three days. When a local warns you about taking bus trips through mountains during stormy weather, you should always take their advice.
We spent the next three days clearing landslides and sleeping on the tables of remote chai shops on high mountain passes. I had a really bad case of chronic diarrhoea and had to tolerate wiping my ass with snow (never eat brown snow), and Freddy had a really bad case of verbal diarrhoea and just wouldn't shut up about himself and his travels through Zanskar, it literally took him three days before he asked me anything about myself.
But Freddy had a walkman, and not just any walkman, but a walkman with extra Bass Boost and so I deemed Freddy worthy of tolerating.
We made a side trip together to a town called Kibber, which has the reputation of being the highest village in the world with electricity and still accessible by road. We ate goat cheese together, shared the sun on top of the Kibber hotel roof, and shared his walkman, all the time while Freddy stressed how bloody wonderful Zanskar was.
I was partially relieved of putting up with Freddy by the arrival of the next bus in Kazar, bringing with it a few more foreigners including an Alaskan named Herman. Herman, Freddy and myself decided to hitchhike to the town of Tabo, where the Dalai Lama will eventually retire to, but due to landslides there were no buses or rides of any sort. We ended up walking for seventeen kilometres that day and finally arrived in Tabo exhausted and craving for coke or any sort of extremely high sugar-content beverage.
Over the next day we rested our souls with an early morning puja (Buddhist prayer meeting), good Tibetan food and music, and then explored probably the oldest and most moving Buddhist monastery I'd seen so far. Considering the challenge of having to walk for at least a day or so to get to anywhere, Tabo wasn't an easy town to leave.
Dharmsala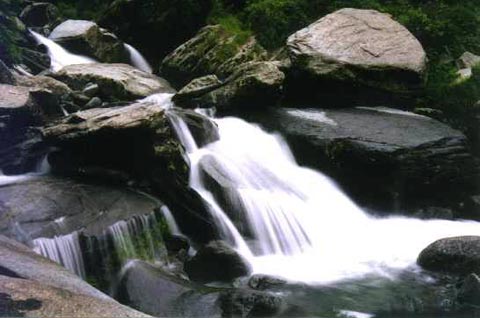 The thought of heading further South to Rekong Peo and possibly encountering more landslides and no transportation was more bearable than tolerating another day with Freddy, …walkman or no walkman. So the next day I said my goodbyes and took off on foot. Sure enough I didn't encounter a single bus, car or jeep and ended up walking twenty five kilometres in the first day. I didn't do well. I took a watery crap at nearly every kilometre. Already dehydrated and starving, I was offered an early lunch of dahl and rice with a small group of dirty, tar-covered road workers who couldn't speak a word of English. Knowing full well that it was likely to make me even sicker, I ate it, thanked them as profusely as I could manage and kept going. In the afternoon I reached a small village near the Chinese border where I was lucky enough to be offered dahl and rice for dinner with a large family of whom none could speak a word of English.
By nightfall I had literally stumbled into Sumdo, a worker's village of some sort beside the Indus river. It was practically deserted, I assume because of the landslides, but an extremely kind man, bless his heart, who couldn't speak a word of English either, let me stay the night in his small hut. I spent the first hour or so in his toilet, while he prepared rice and dahl which unfortunately I could no longer stomach. He insisted that I sleep on his mattress while he slept on the floor. The kindness of strangers. This is something I will forever remember India for.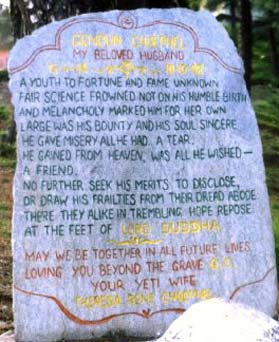 The next morning I feebly walked another ten kilometres before finally reaching a small roadside restaurant which served a version of spaghetti bolognaise that looked and tasted like it had been sitting around for several days. No longer fussy with my once high food standards, and glad to be eating anything but dahl and rice, I tucked into it with enthusiasm. All the while being accosted by a member of the local constabulary, eager to share with me his small collection of English pornography.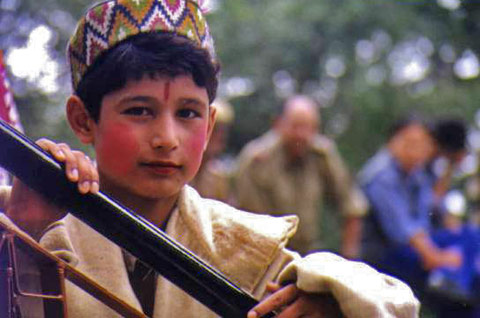 I waited at the restaurant several hours until the next jeep service arrived to ferry passengers to the next rockslide. From there it was walking for the rest of the day to the beautiful picturesque town of Nako. It felt like salvation; no more landslides, no more desolate desert-like landscapes, and a bus to Rekong Peo – a village with a view of Holy Kinner-Kailash, one of the seven holy himalayan mountains, venerated by both Hindus and Buddhists alike. I had planned to spend a few days exploring, but my stomach was telling me to forget good views and adventures and get some decent food. I had gotten to the point where I could no longer look at dahl and rice without almost throwing up. I knew what I needed – Tibetan food. I didn't even stay the night in Rekong Peo. Nineteen sleep deprived hours later I arrived by bus in Dharmsala, home of the Dalai Lama.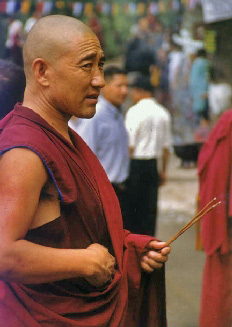 By chance I happened to bump into Herman again and we both considered doing one of the many character-building classes that were available in the town; meditation, yoga, Buddhist philosophy, Tibetan cooking and even a twelve day Vipassana meditation retreat. After a minute of consideration we considered against it and then spent the next two weeks eating tandoori chicken, pizzas, momos, icecream, porridge and fruit (and anything else that wasn't dahl and rice), and watching pirated American movies. We were lucky enough to be in town for the Dalai Lama's birthday and to also see the wonderful and uplifting change in the town's personality when His Holiness returned from a trip abroad.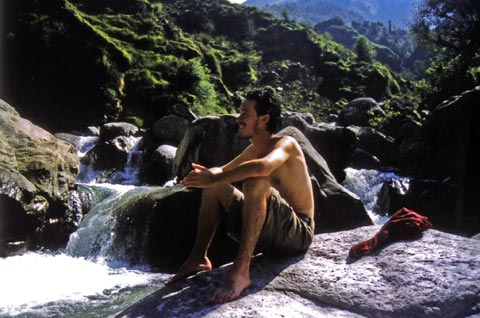 Amritsar
Still having amazingly explosive attacks of diarrhoea, but feeling brave enough to chance a train trip, I traveled to Amritsar with Herman. Amongst the grime and heat of the city was the magnificent and peaceful Golden Temple, house of the sacred scriptures of the tall and proud Sikhs. The gold-covered temple was at the center of an enormous complex with dormitories and dining halls where all people, irrespective of race, religion, or gender, were lodged and fed for free (Sikhism rejects the Hindu caste system, priesthood and image worship but still retains the Hindu doctrines of transmigration and karma).
After dinner with the masses, dahl and rice as usual, we hung out and watched people immerse themselves in the pool surrounding the temple. We listened to hymns and rhythmic organ music until it fell quiet after midnight. With no accommodation booked and the tempting warmth of the night air, we were left with the option of sleeping on the cool marble temple floor amongst the hundred or so pilgrims and homeless people that had the same idea.
It wasn't the best of options. We were woken at 3am by the daily ritual cleaning of the temple. Everyone got involved. Every inch of marble flooring was flooded with water and scrubbed vigorously, including where we had been trying to sleep. Not being cut out for the pilgrim lifestyle, Herman and I retreated to some quiet stairs and attempted to sleep again until a more respectable time. Once the hymns and chanting recommenced for the day, sleeping was a lost cause. By 10am it was already over 100ºF and so we left Amritsar and the Golden Temple, tired but happy to have seen one of the most beautiful temples in India and to experience the tremendous generosity and compassion of the Sikh religion.
Simla
Having so far avoided the Indian summer heat as much as possible, I was not looking forward to returning to Calcutta to catch my flight back to Manila. The journey from Dharmsala to Calcutta was almost three thousand kilometres – I had less than a week to do it and wanted to do it in style.
From the hill station of Simla I took the famous toy train down to the foothill town of Kalka, a wonderful journey that wound through over a hundred tunnels in first class, but very affordable comfort. After meeting up with my Korean friend Hee Gwang in Delhi for a few days (he'd passed out with stomach problems in Leh and was flown down to a Delhi hospital) I caught another first class train from Delhi to Calcutta. It was definitely the way to go.
Finally being a little more accustomed to India, I found Calcutta to be a much more pleasant city the second time around. For my remaining days I enjoyed wandering around lost in the tropical heat. My only souvenir upon returning to Manila, was a stomach bug that survived a bombardment of prescribed drugs and hard liquour for almost three years…India has that way of affecting a person.