Having been in the UK for all this time, I've barely seen much of my own home county of East Sussex at all. Let alone the rest of the country.  So Monica and I decided to take a bicycle touring trip from our home in Brighton.  Took us several days of flip-flopping on which direction to go based on where we could camp.  A coin toss settled the matter and we headed East through Lewes and into the countryside beyond.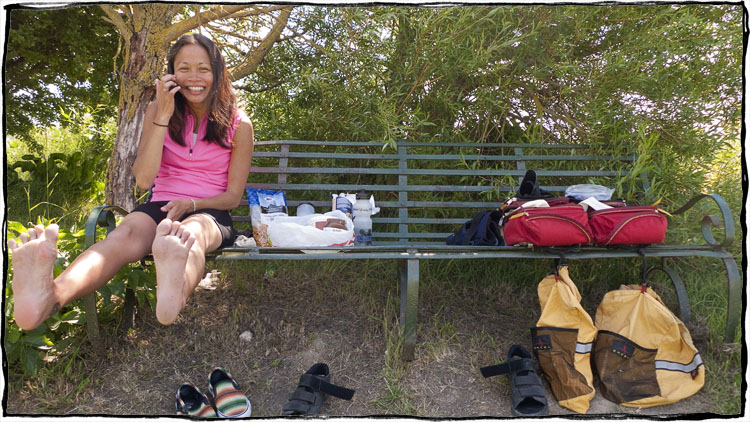 I'm not such a good travel planner.  Having bicycle toured a bit before I wasn't worried about the cycling or the weather but more worried about where we were going to sleep for the night in such a densely populated little island.  We'd  searched for a few camp grounds online the night before and were a bit horrified at the English idea of camping in a field surrounded by a sea of other tents.  So it wasn't hard to convince ourselves that wild camping was the way to go, despite the legalities of it.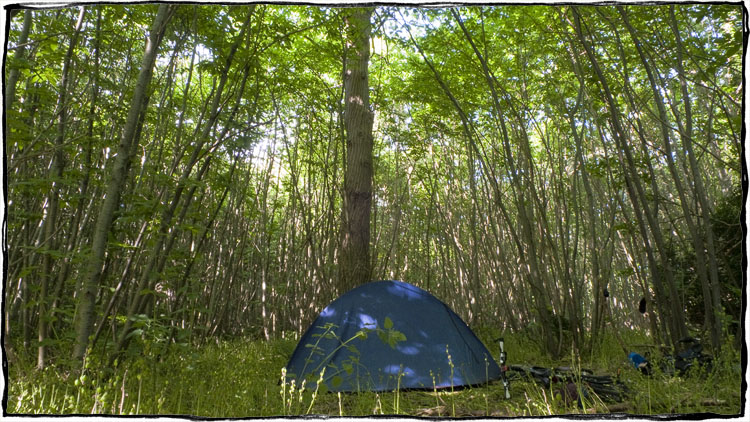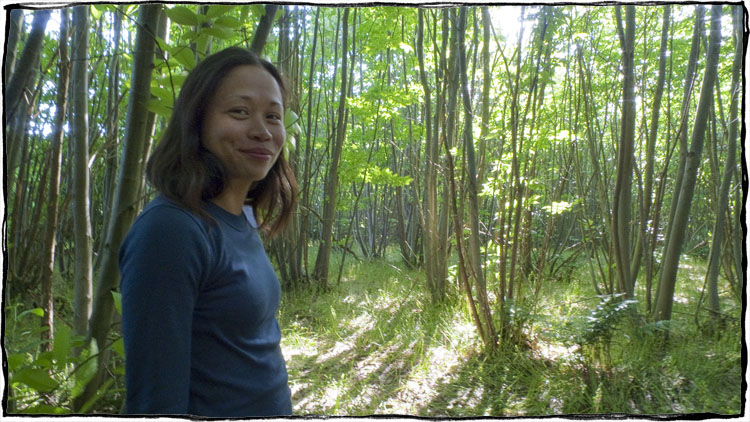 On the first day we did almost forty miles. Being mostly downhill for the ride from Brighton to Lewes helped. We didn't plan to ride much as we didn't have a plan to get anywhere in particular. But needing water sort of drove us on. I know, I know, there's plenty of places to get water. I mean…we go through a village every five miles or so but my sense of independence (or call it lack of confidence) means I don't like asking for water. But after a lucky hunch by the end of the day, we learned that a quiet churchyard is a good place to fill up the waterbag. Besides, we figured that if there was one place that shouldn't object to giving water for free, it would be a church. As what the man said when we told him that we took water from their tap, "It's no business of mine, a man needs water." Amen.
Not long after that we also learned that places labeled as Woods on the map are most likely good prospects for camp spots. We had discretely pulled off the road into some woods, found a place as far from the path as we could and set up camp. It was good to rest our weary bones with just the buzz of mosquitoes in our ears, ahem … and the hum of traffic from the main road nearby. Note to self: find more remote woods…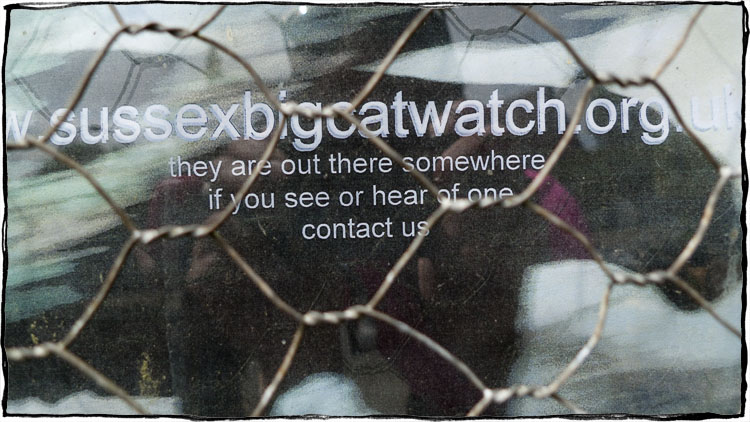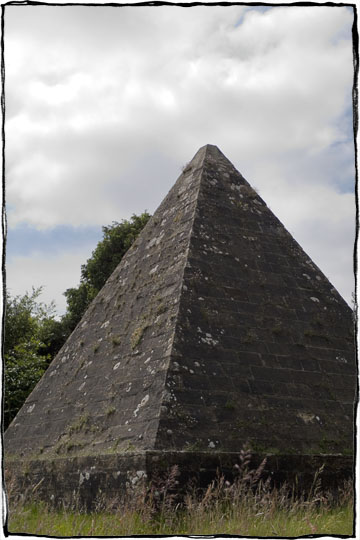 Day two of our journey marked the beginning of hilly rides; it saw us fail to see the Herstmonceux castle and fail to see a big cat but we did get to see the Brightling pyramid built by John "mad Jack" Fuller. We went into Battle (couldn't resist the pun) for chips, food supplies and a much needed coffee. A bit of a shorter day at only 25 miles but we felt no shame when we spotted a potential wood in which to camp not far from Sedlescombe.
It was a lot more relaxing than our first night's camping – we'd finished earlier so had time to chill out before eating and were more confident about being in a spot that no one would stumble across. We spotted a couple of deer and a fox, and through the trees we overlooked a field full of cows. That night we fell asleep to the sound of rain pouring down on our tent. Ah, camping at its best.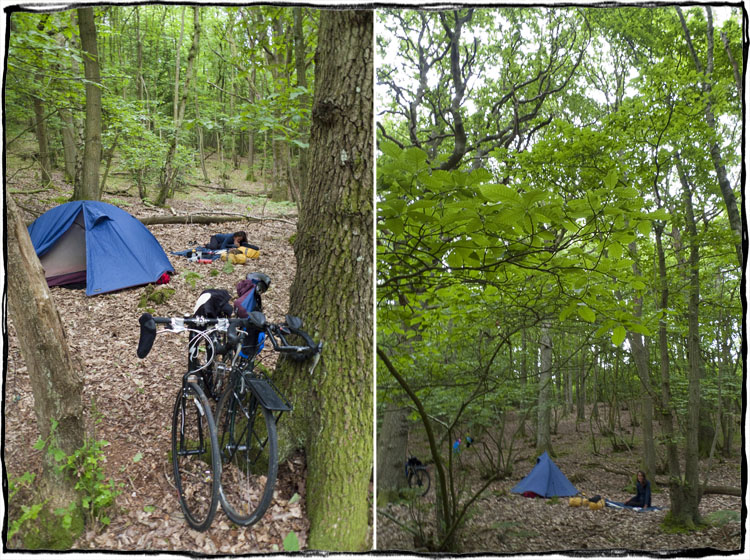 Day three began with our usual breakfast of rice porridge mixed with whatever we had in our snack pannier, be it Nutella, peanut butter or dried fruit and nuts. The ever dependable Trangia cooking stove worked it's usual quiet magic.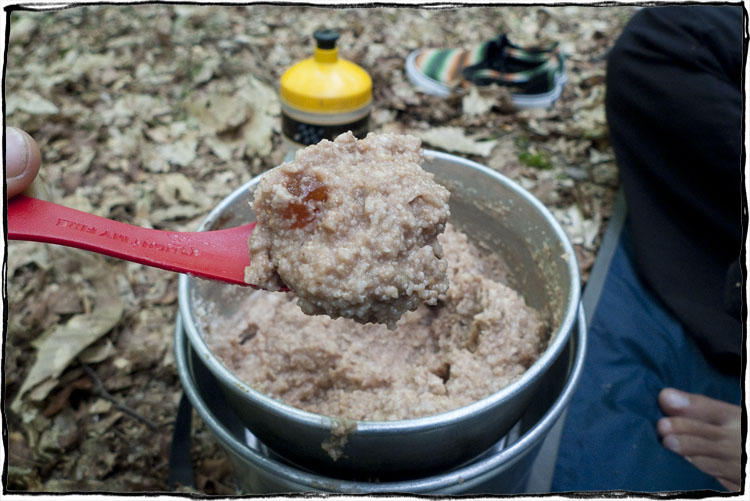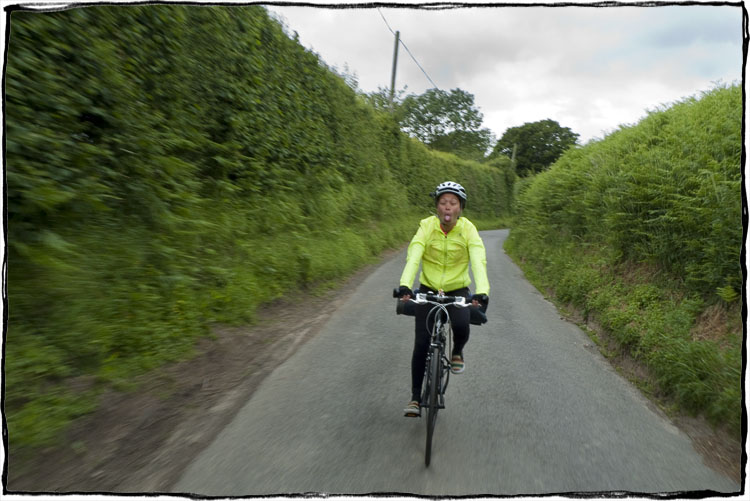 It was a bit colder that morning and we had the occasional light rain shower. We rode through some really scenic areas and by lunch time we made it to Rye. Our map showed the areas we were riding through as "Areas of Outstanding Natural Beauty" and we came to understand this as meaning it was an area of many little hills. The hills were easy enough, only a minute or two to climb, but this meant very short downhills. Long pleasurable downhill cruises were sorely missed on this trip.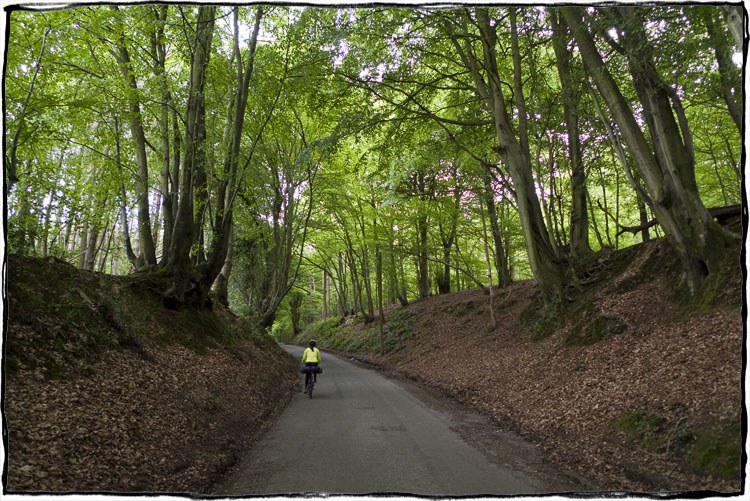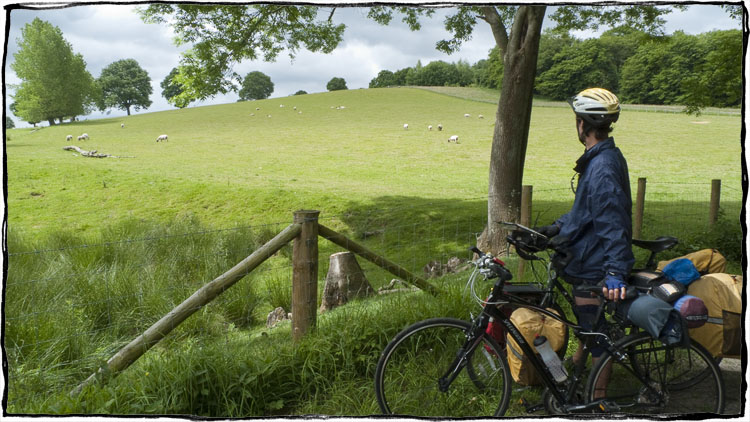 In Rye, plans were to eat lunch and stock up on more food. Shopping daily for our dinner meant less to carry throughout the day, which in my book is a good thing.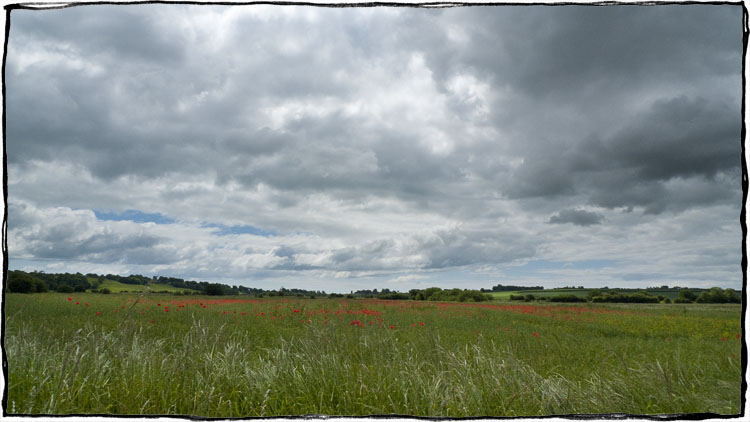 Then things started getting pretty stormy. The waiter at the pub we lunched at called us brave while we huddled underneath one of the large umbrellas in their open courtyard. The truth was that I didn't want to scare away any of the customers inside with my three-day-old body odour. Yes… it was time to succumb to the fact of needing a campground for a shower.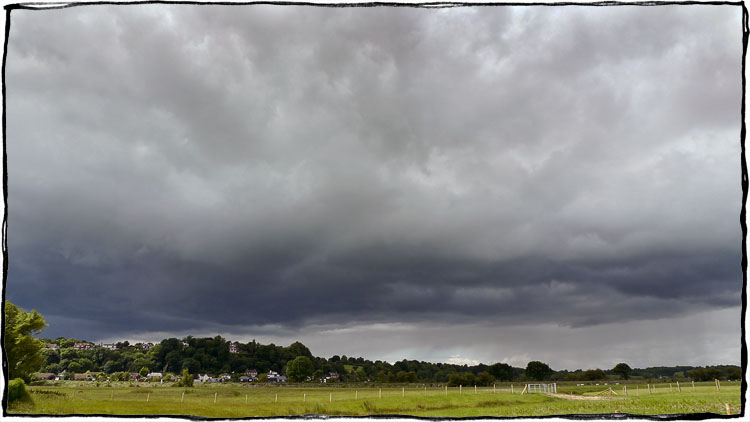 We decided to keep riding after lunch towards Dungeness in the hope that we'd find a campground. But pretty much a minute after getting on the bikes again the heavens opened up. We stopped under some trees to wait it out and I did my best at trying to convince Monica that we could quit. The idea of catching the train back to Brighton, not having to pitch a tent or cook dinner in the rain, and getting a good night's sleep on our own bed were all fairly appealing to me. Especially as it was my turn that night to sleep on the dodgy mattress.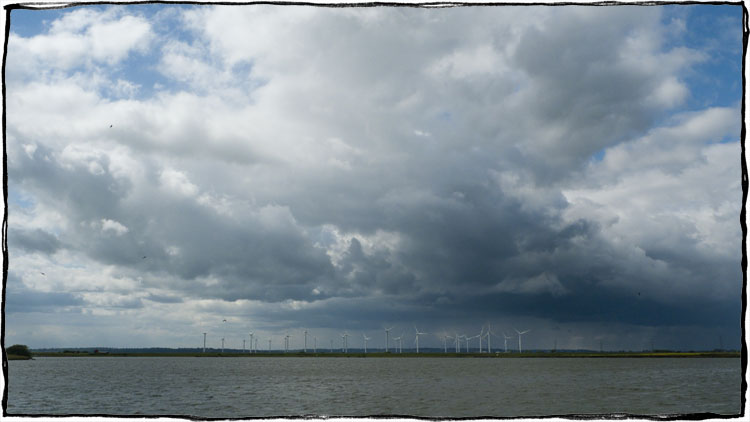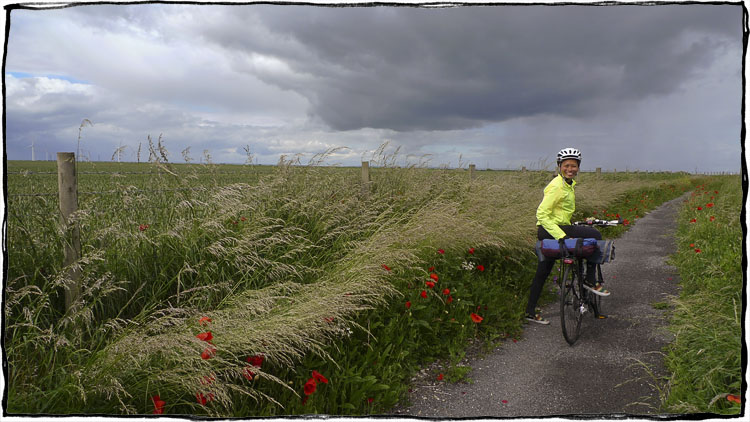 For an hour we battled strong head winds and occasional showers while we headed East. Just outside of New Romney we found a campground and squeezed our tiny tent between a family of noisy kids and a couple's radio-playing SUV. The showers were good but that was about it. That night we fell asleep to our camp-spot-neighbour-Mum reading out bedtime stories. Ah, paid camping English-style.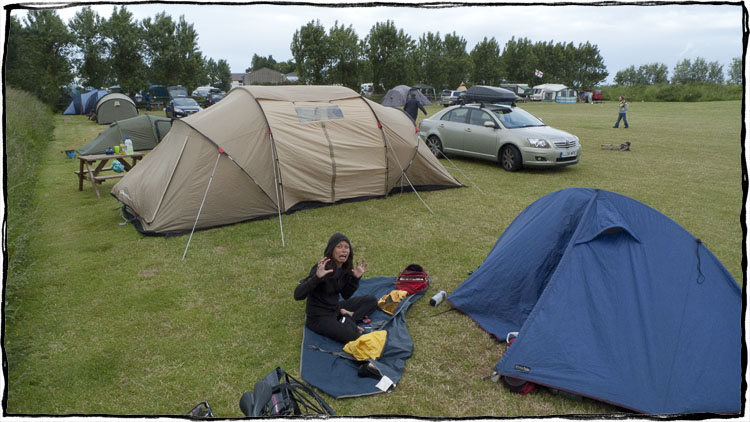 Day four saw us finally make it to Dungeness and then turn around for the ride home. We were a little bit disappointed with Dungeness, but seeing the nuclear power station made it all worthwhile. Monica was still disappointed with that as none of the locals seemed to be glowing yellow.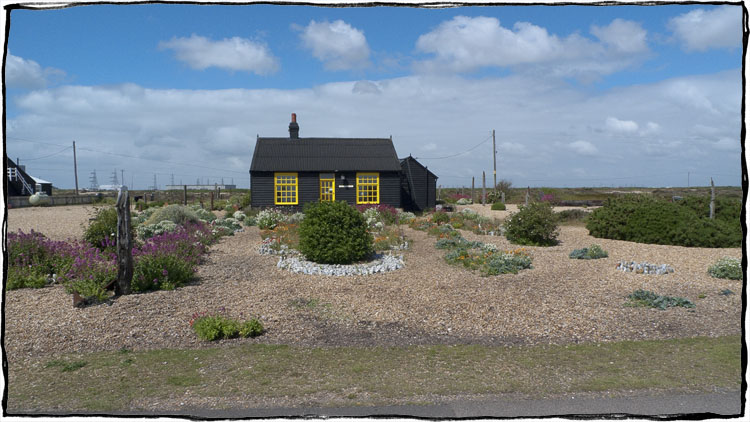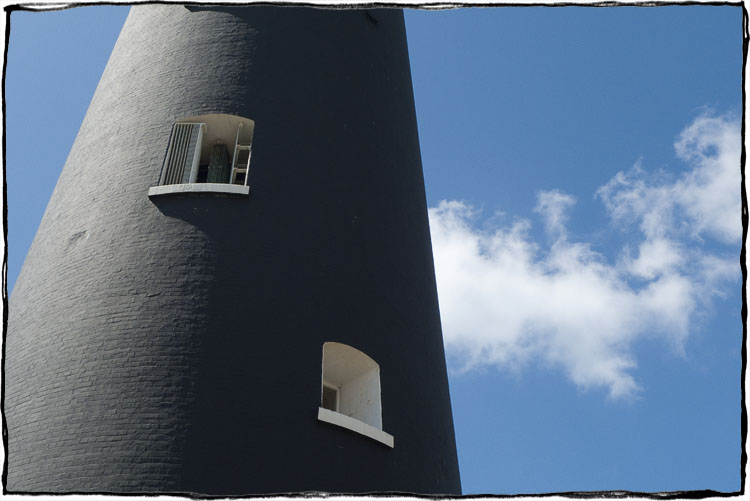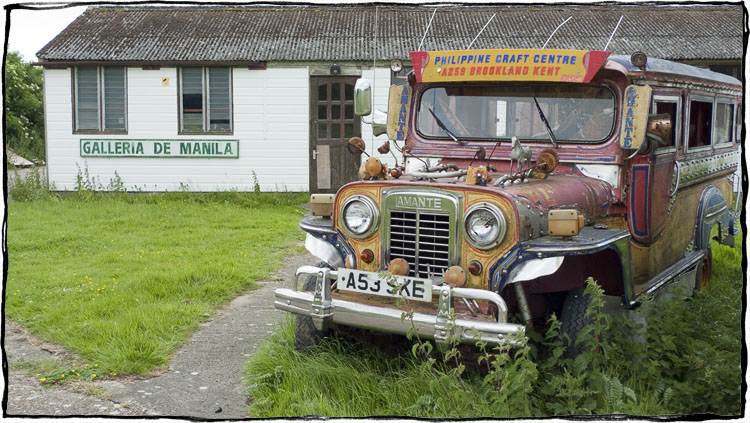 We were besotted with more head-winds on our way back West. Just before hitting the hills again we stumbled across the sight of a familiar, but out-of-place-in-England, Jeepney!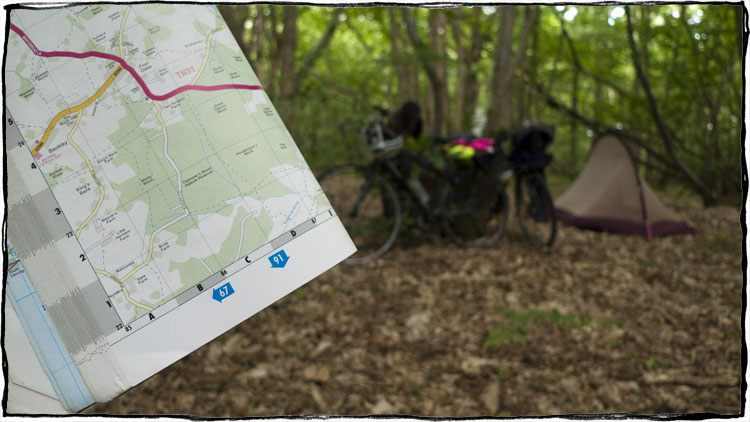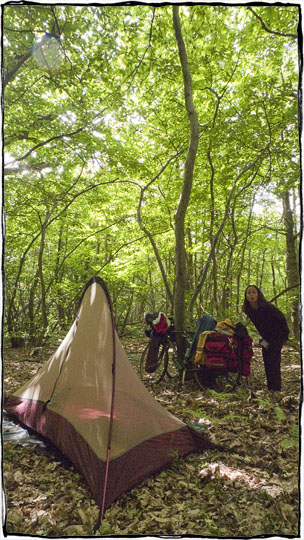 We stopped early once again after riding about 35 miles. We thought we'd found a perfectly discrete camping spot but had three different people walk past that afternoon and the next morning. None seemed to pay us any attention however, and even seemed to blatantly ignore us!
Dinner was the usual beans, vegetables and rice.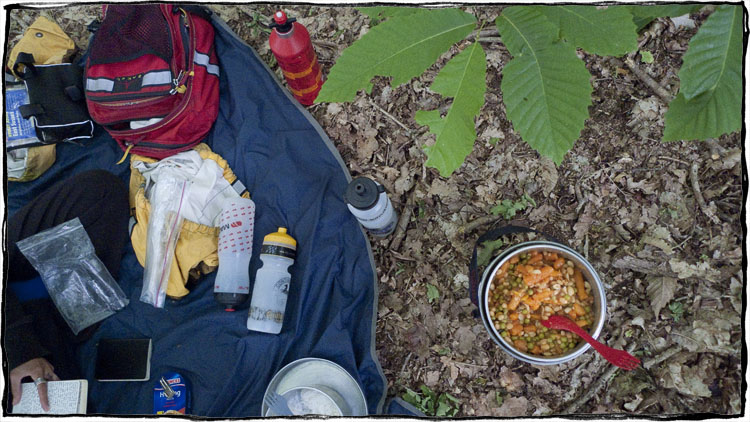 Our company was the occasional large mosquito.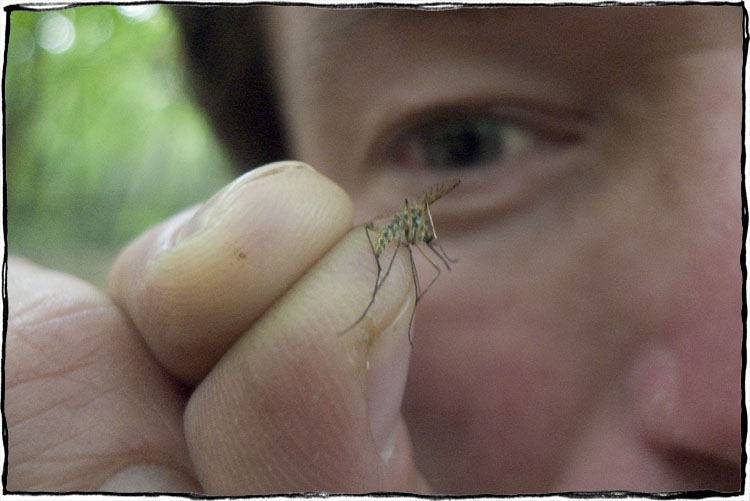 And entertainment was the only thing we brought, a game of Pigs. I'd like to say I won both games. But of course the wifey claims otherwise.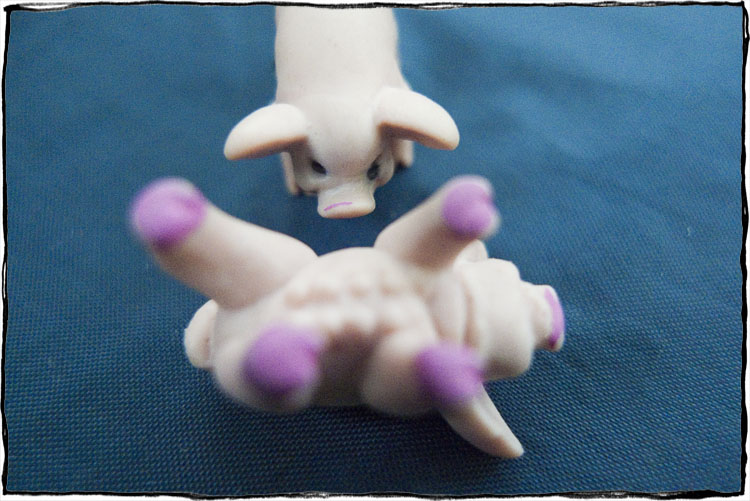 Day five saw us within reach of home so we set off early and tried to get as many miles in as we could.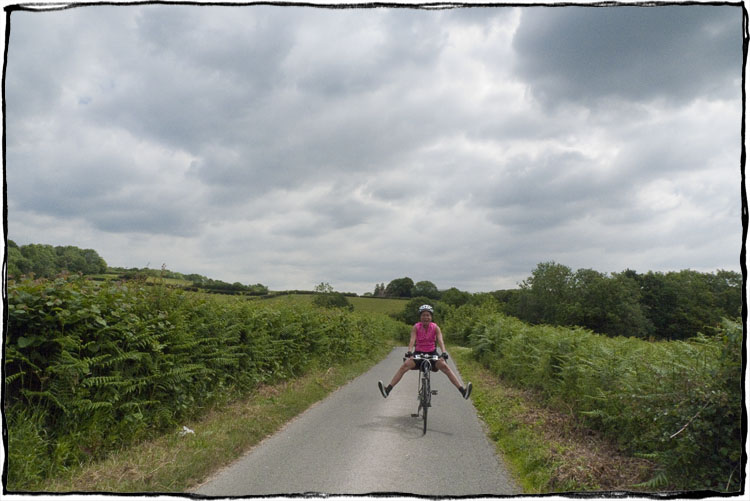 A fifty-mile day meant doubling our usual Snickers bar intake and courageous attempts to empty our snack food pannier. A late lunchtime stop for cheesy chips and cider nearly did us in though and we almost never made it home. An alcohol and big lunch combo just doesn't seem to encourage energetic riding.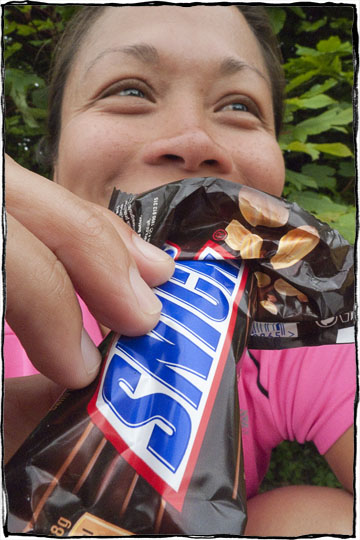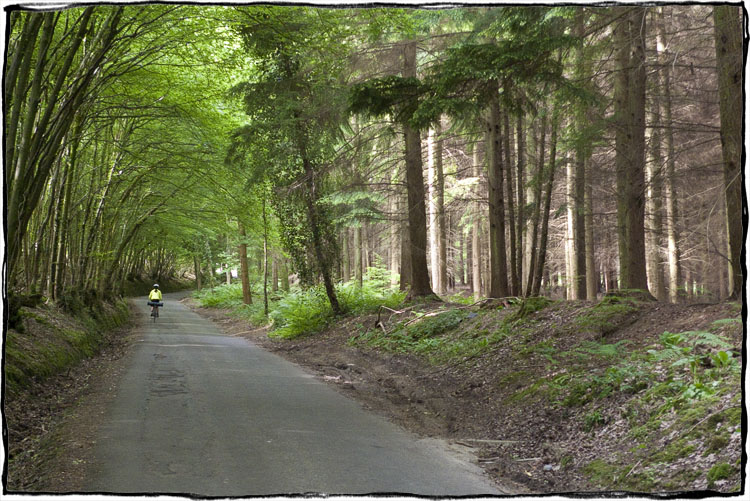 However with a comfy mattress to sleep on and a delicious, un-tinned meal for dinner as our big motivation, we buckled down to our saddles and made it back to our doorstep. A day and 15 minutes early.