The National played in Brighton last night.I almost missed them because of my work schedule so was pretty happy to have made it as they've been my favourite band for the last couple of years.
The Corn Exchange was stuffy and hot, virtually no ventilation and the band was all soaked through in sweat by about the third song. Coupled with quite a few audio hiccups, I thought they'd be tired and annoyed to be there. But after every squeal of microphone feedback and pop of the amp they'd give a smile and take it all in their stride. Matt Berninger told the crowd that recently they'd been doing a lot of festivals, "they were pleasant", he said, "but places like this are where we feel at home".
They played a long set filled with a lot of their older songs which went down really well. An awesome gig by an awesome band.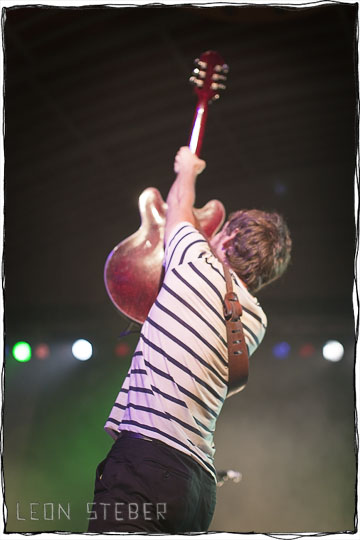 This was my fourth time to see the National live and I think I'm done. No need to see them again. I liked their new album but it in no way affected me the way Boxer or Alligator did. Time to find a new favourite band, me thinks.
For more of my live music photography, please see the photos in my music category