Beer is one of the things I miss most since becoming gluten-free. A barbeque on a lovely summer's day isn't quite the same without it. Cider is often too sweet, wine is not as refreshing and spirits aren't exactly something I want to be downing with my barbie food. For the past few years I've relied on Green's beers to get me by but it's been a long time coming that I would eventually try my hand at home-brewing my own beers. Green's has a wonderful bunch of stouts and lagers, brewed in Belgium using sorghum grains but the price, as with all gluten-free products, is quite a bit more than a regular beer.
I found a wealth of information on the internet for various recipes. To start with I wanted a recipe that would be least likely to fail and result in me dumping five gallons of disgusting muck down the drain. Being a beginner to the world of home-brewing I also didn't want to go through the process of malting my own gluten-free grains for my first recipe. That experiment will come further down the line.
So I stumbled upon Damian Keefe's recipe for "Four Star" gluten-free strong ale on the British home-brew forum jimsbeerkit.co.uk.  I purchased the strange combination of ingredients and also needed to make a few substitutions to the original recipe. I will outline my experience here, I am only a beginner and this is my first home-brew so I probably have incorrect techniques and terminologies but hopefully this will inspire someone else with Coeliac disease to be confident enough to embrace the DIY ethic and give home-brewing a try. I made some modifications to the original recipe and I will list them here. I recommend you read the original recipe. I'm pretty damn pleased with the result of this first home-brew and am already looking forward to planning my next attempt.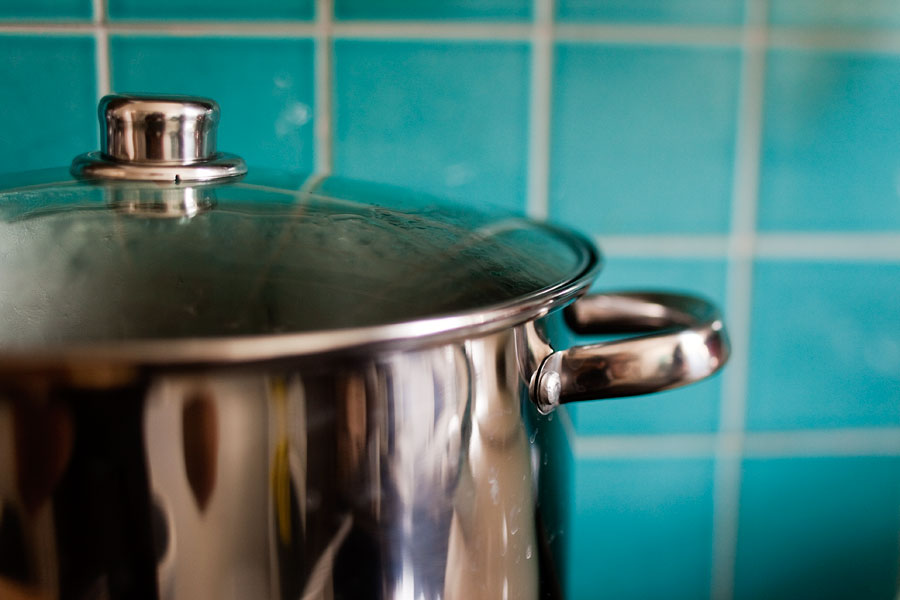 I purchased the brewing kit from Johnson Home Wine Supplies in Worthing who also went to the trouble of doing some internet research for me while I was in the store to see if they could get any gluten free grains. Very nice of them. That kind of service makes a big change from the sort I used to get at a part home-brew, part bicycle repair store in Brighton that has recently closed. I walked away from Johnson's with the following kit, which set me back just under £50:
25L (5 gallon) brew bucket with an air lock on the lid.
Thermometer – the plastic sort that sticks to the side of the brew bucket.
Hydrometer – very important – used to calculate your alcohol content and to know when your brew is ready to bottle.
Trial Jar – basically a skinny plastic measuring jar that makes using the hydrometer easier.
Siphon – needed later for when you start bottling.
Belt heater – a heater strip that wraps around the brew bucket to optimise the brewing temperature.
Big cooking pot – I bought the largest, cheapest cooking pot I could find, this saves a lot of time as otherwise I would have had to prepare the wort in several stages.
I also picked up the following:
Northern Brewer hops – adds the beer flavour.
Irish moss – used to clear the beer after bottling, I used it but not sure how much it helped.
Yeast nutrient.
Dried ale yeast pack.
Isomerised Hop Extract – I assumed this was to give a stronger hops flavour and may not have been needed.
(Maltodextrin) – Although this was in the ingredient list I didn't end up purchasing it as I could not be sure it was gluten-free. So instead I added extra Date syrup (almost 1/2 litre).
From the supermarket and searching various health food stores I also got the rest of the ingredients:
30 Redbush tea bags – a South African Rooibos tea.
10 Liquorice tea bags
0.2 kg Muscavado dark sugar
4 dessert spoons of Lyles Black Treacle
2 teapoons Yeast extract – the recipe called for Bovril beef, a stock flavour. According to it's ingredients it wasn't gluten-free so I substituted a yeast extract (similar to Vegimite or Marmite) from the local health food store. Some people say that Marmite in the UK may be OK for Coeliacs but it doesn't confirm this on the ingredients so to be sure I substituted something I knew was naturally gluten-free.
2 teaspoons Chocolate essence – I couldn't find this anywhere. I considered adding a shot of espresso instead but eventually chose to leave it out completely.
2 teaspoons Vanilla extract
6 dessert spoons of Tamari Soy Sauce
2 litres of Prune juice
1/2 litre Date Syrup (I added extra to replace the maltodextrin)
0.8 kg Golden granulated sugar (I never realised how much sugar is used to make beer!)
And so the home brewing begins:
1. I cleaned and sterilised all my equipment with a product from the pharmacy that's also used to clean baby food utensils. What I read on the internet about sterilisation, bleaches and iodines got me quite paranoid about not having my equipment clean enough and ruining my brew. But it seems to have worked fine without going through hospital-grade cleaning products that some people were recommending.
2. Filled my brewing bucket with 5 litres of cold tap water.
3. Brought 7.5 litres of water to the boil in a big pot and then turned off the heat. To this I added 7 liquorice and 24 Redbush teabags and stirred continuously. After 3 minutes I removed the teabags and added the tea liquid to my brewing bucket.
4. I then added the following ingredients to the brewing bucket, making sure I stirred vigorously to get as much air as I could into the wort:
Vanilla extract: 2 teaspoons
Prune juice: 2 litres
Date syrup: 0.5 litres plus some extra to replace the maltodextrin
Granulated sugar: 0.8kg
Isomerised hop extract: 5 teaspoons
Yeast nutrient: as per packet instructions
Tamari soy sauce: 6 dessert spoons
5. I boiled another 3 litres of water in the big pot and turned off the heat. This time I added 10 teabags and allowed them to steep for 10 minutes while stirring continuously. I removed the teabags and put the pot back onto the heat to simmer gently. To this I added:
Dark Muscavado sugar: 0.2kg
Lyles black treacle: 4 dessert spoons
Yeast extract (or Marmite): 2 teaspoons
Northern brewer hops: 25 grams
Irish moss: 0.5 teaspoons
This simmered for 15 minutes and then was added to the brewing bucket.
6. I topped up the brewing bucket with cold tap water to get it up to the 22L (5 gallon) mark. Before I put the lid on I measured the specific gravity of the wort using the hydrometer. My starting (original) gravity was 1.035. I left this overnight until the mixture had cooled down to 21 degrees Celcius.
7. Once cooled to 21C, I sprinkled dried yeast on the surface. Leave it for half an hour before stirring it into the wort. From now on it was recommended not to introduce any more air into the wort, so no vigorous stirring or shaking.
8. With the lid back on the brewing bucket, sit back, relax and wait for about 7 to 10 days. I found that after 4 days the bubbling through the air lock had pretty much stopped. After another paranoid search on the internet I realised it wasn't something to worry about. The yeast was still working its magic, just a little more slowly by now. During this time the hops will rise to the surface of the wort and then fall back to the bottom again. At the end of this period, I measured the specific gravity of the wort again. My final gravity was 1.001 which calculates to an alcohol content of about 4.5%.
9. Sterilise all your bottles and bottle caps. I dried mine in a slow oven making sure that the oven was cold before adding the bottles.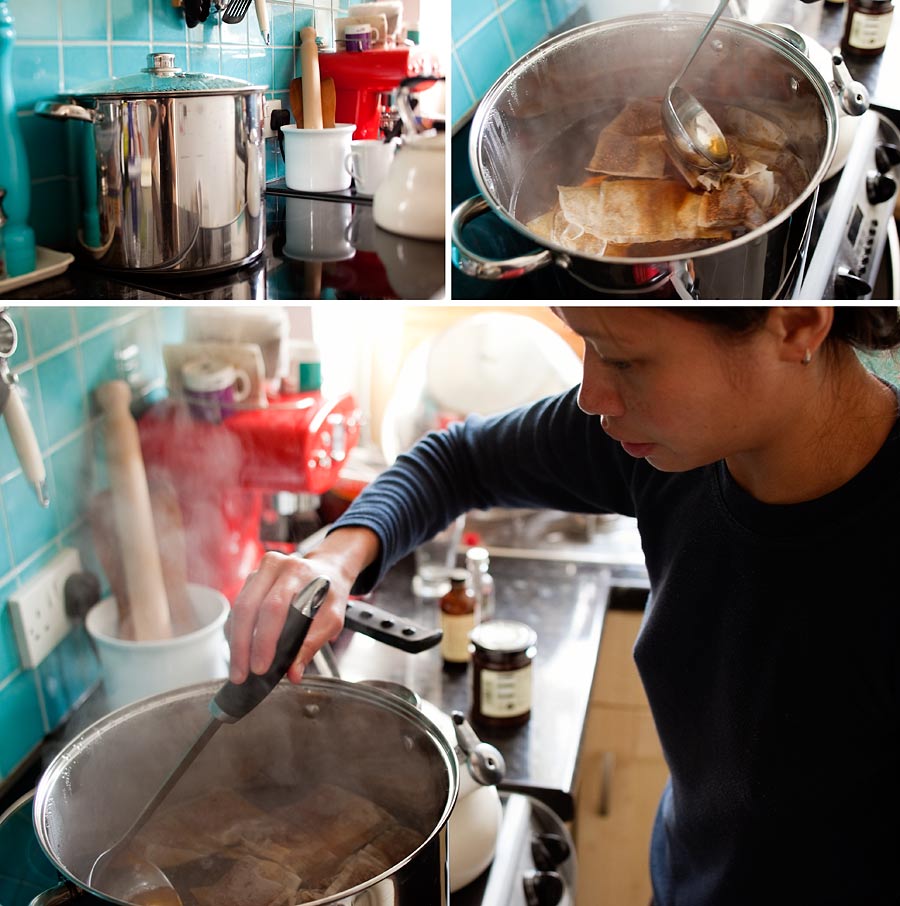 10. At this point I needed to add gelatin (to clear the brew) and priming sugar (to make sure the bottled beer has fizz) to each bottle. I could see how much hassle this was so instead dissolved 2/3 cup caster sugar into 2 cups of just boiled water. Once dissolved I stirred in 1 sachet of gelatine (about 10 to 12 grams) until dissolved. Mine didn't dissolve completely so I carefully heated it again over a pan of boiling water. I poured this mixture into a secondary bucket.
11. From the main brewing bucket I siphoned the liquid into the secondary bucket, ensuring that the gelatin/sugar mixture was well mixed. Be careful not to put too much air into the mixture and try to be careful not to lift too much sediment out of the brewing bucket.
12. Fill the beer bottles out of the secondary bucket (next time I will leave the liquid in the secondary bucket overnight to clear as I got too much sediment in the bottles).

13. Leave the bottles somewhere warmish for a week to make sure the priming sugar is fermented. After that, leave at least another week, preferably a month, before enjoying!
With my few modifications to the original recipe I still wound up with a wonderful tasting beer, similar to a stout. It took me a day or two to get over the idea in my mind that it had things like soy sauce and yeast extract in it. I will definitely be trying this recipe again – it's easy enough to not screw up and very drinkable!