I've got a few friends with Coeliac disease and eating gluten-free so we have been swapping favourite recipes for some time. I thought I would put a few of our favourites here in one place.
My wife picked this one up a few weeks ago and it was an instant hit straight away. Though to be honest, anything my wife makes is incredible, she's an awesome cook and knows what flavours work to compliment different foods.
So here it is, naturally gluten-free of course.
Vegetarian Chili
You'll need:
2 tablespoons olive oil
1 chopped yellow onion
1 chopped red capsicum
1 chopped green capsicum
2 tablespoons minced garlic (or as much as you want, we're big on garlic)
2-3 serrano/chili peppers, stemmed, seeded and minced depending on taste
1 chopped medium zucchini, diced
2 cups fresh/frozen corn kernels
About 5 large portabello mushrooms, cubed

2 tablespoons chili powder
1 tablespoon ground cumin
1¼ teaspoon salt
¼ teaspoon cayenne pepper
4 large tomatoes, peeled, seeded and chopped
3 cups cooked black beans, or canned beans, rinsed and drained (we would have used black beans if we found some but in this case we used kidney beans)
1 can tomato sauce
1 cup vegetable stock
¼ cup chopped fresh cilantro (coriander) leaves
Garnish
Sour cream or plain yogurt
Diced avocado
Chopped green onions
Essence creole seasoning (see below)
Essence Creole Seasoning
Combine the following together thoroughly:
2½ tablespoons paprika
2 tablespoons salt
2 tablespoons garlic powder
1 tablespoon black pepper
1 tablespoon onion powder
1 tablespoon cayenne pepper
1 tablespoon dried oregano
1 tablespoon dried thyme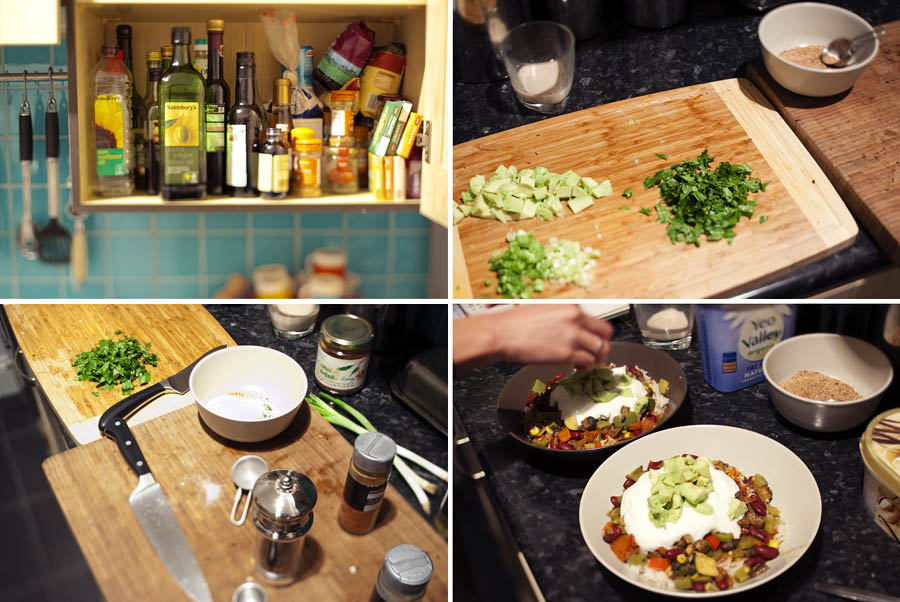 Heat the oil in a large, heavy pot over a medium-high heat. Add the onions, capsicums, garlic and serrano peppers and cook, stirring until soft, about 3 minutes.
Add the zucchini, corn and mushrooms and cook, stirring until soft and the vegetables give off their liquid and start to brown around the edges, about 6 minutes.
Add the chili powder, cumin, salt and cayenne and cook for about 30 seconds until fragrant. Add the tomatoes and stir well. Add the beans, tomato sauce and vegetable stock, stir well and bring to the boil.
Reduce the heat to medium-low and simmer, occasionally stirring, for about 20 minutes.
Remove from heat, stir in cilantro. Adjust seasoning to taste.
To serve, place ¼ cup of brown rice in the bottom of each bowl and ladle the chili into the bowls. As an alternative to rice, we have had this with corn chips and grated cheddar cheese. Top each serving with a dollop of sour cream/yogurt and a spoonful of avocado. Sprinkle with the essence and green onions.
Enjoy !