It took us a long time to find a recipe for a great tasting, easy to make muffin.
This recipe is taken from the Blackbird Bakery Gluten-Free by Karen Morgan. Lots of great recipes in it but most are based around sorghum flour. At first we were at a bit of a loss on where to find sorghum flour in the UK, it's not very common here. But with a bit of research we found that it was common in Indian food stores and labeled as Ashapura Juwar.
These muffins are great tasting, even after being stored for several days. We usually heat them up under the grill and melt a bit of butter on them.
You will need:
¼ cup sorghum flour
¼ cup almond meal
½ cup cornstarch
1 cup tapioca flour
½ cup packed light brown sugar
¼ cup granulated sugar
¼ teaspoon salt
2 teaspoons guar gum
2 teaspoons baking powder
½ cup unsalted butter at room temperature
2 large eggs
1 teaspoon pure vanilla extract
½ cup whole milk
1½ cups low-fat cottage cheese
1 cup raisins
¼ cup minced fresh chives
1. Preheat oven to 190°C. Lightly grease a muffin tray with butter or use paper liners.
2. Mix all the dry ingredients together in a bowl. Add the butter and continue to mix until blended, about 2 minutes. An electric mixer would be ideal for this but we managed just fine with a wooden spoon.
3. Add the eggs and the vanilla and continue to mix until light and fluffy. Add the milk and mix quickly until smooth. Fold in the cottage cheese, followed by the raisins and chives.
4. Fill each muffin tray cup about ¾ full with the batter. Place in the oven for about 25 minutes or until golden brown and firm to the touch.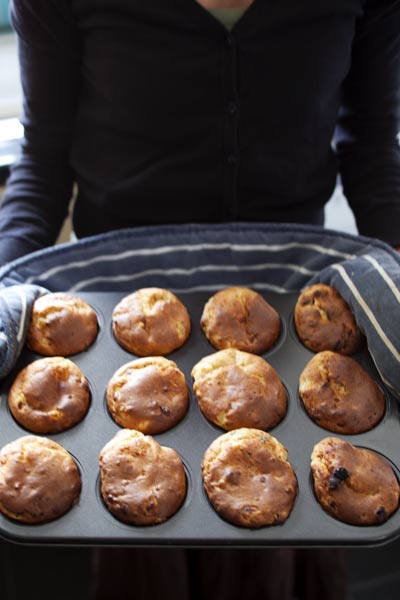 5. Remove from the oven and transfer the muffins to a wire rack to cool slightly.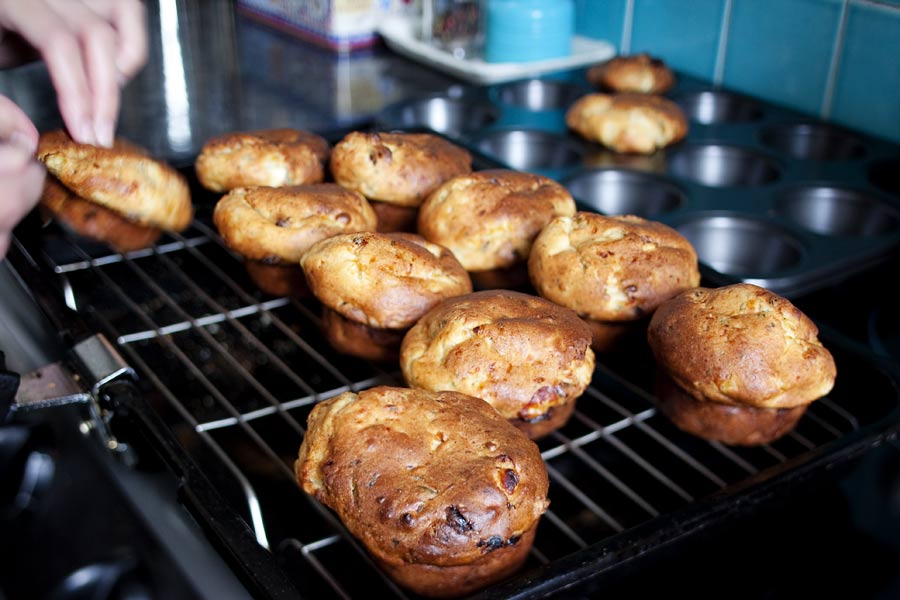 Enjoy!