Have been very lucky to see two really great bands over the last two nights. Last night we caught Yeasayer at Digital underneath the arches. I wasn't expecting much from Yeasayer to be honest. I love their music but was sort of expecting to find a bunch of guys sitting behind laptops playing samples. But I was well impressed. These guys are all awesome musicians and can harmonise vocals so well. It was a really great gig. Sound was a bit shite though – sometimes I thought I was going to get heart palpitations from the bass.
The night before I got to finally see Richmond Fontaine. I cannot remember how I stumbled onto the band in the first place – it may have been a recommendation on a website that I happened to stumble upon and took a chance on. Finally got to see them at the Hanbury Club. I haven't been to the Hanbury for a few years (saw Okkervil River there) since it changed from being the ballroom. All that appears to have changed is the wallpaper and a lovely curtain behind the stage. The stage is still at audience level so it's fantastic for photos. In fact I sort of wished I'd brought a wider lens as Monica and I were only about two metres away from the band.
Peter Bruntnell was the support act – he was very good. I'd not heard of him before but he's well regarded by quite a few famous folk and has quite a few albums under his belt. Turns out his sister actually works at my local doctor's surgery and recognised us from the show:
Richmond Fontaine were awesome and all really friendly blokes. They rocked. We went backstage with Dan Eccles the guitarist after the gig and got to chat about photography and stuff which was really cool. I also got to get my copy of Willy Vlautin's "The Motel Life" signed. It's a really good book and I recommend it – I will be getting his latest ones soon. Here's a bunch of pictures from the gig. Have had to desaturate them quite a bit as there was horrible red lighting. Hope you like.
This is Willy, lead singer and also the novelist.
This is Dan Eccles the lead guitarist – he rocked. And I know he'll probably take a look at these pics so I take this moment to say Hi !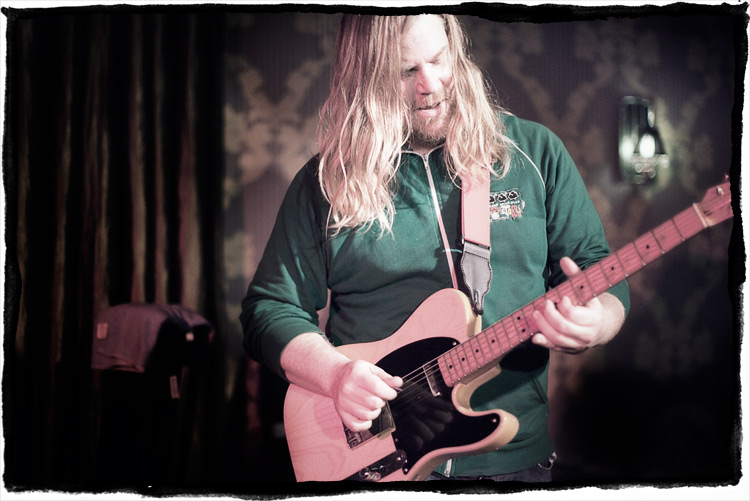 This is Sean Oldham, drummer. Unfortunately I didn't get any photos of the bassist, we were too close to the front!
Olly Hearsey has a great shot of the band that he took prior to the gig, see it here.
For more of my live music photography, please see my photos at leonsteber.com/photos/music.html