– Words and images by Monica Luna
Every time we go on a trip somewhere, we do the usual quick planning of routes or activities and packing of things to take. And those things always include food.
With Leon's diet, it isn't easy to just pop into a shop for a snack. Choices are limited if there are any at all. So we've made a habit of slaving away in the kitchen for us to be able to pack treats made with love, sweat, and the occasional curses from Leon at uncooperative dough.
We have done this homemade-snack-box-business a number of times now and although not everything has worked, we have already come up with a few favorites. For them to 'work' they need to keep well in an air-tight container and of course taste great.
Our last trip was to the Wilderness Festival up in Charlbury, Oxfordshire. For this we decided that crackers, scones, and shortbread would be enough to take for the four days we'd be away.  And that's between just the two of us. Yes, we like to eat.
I made the gourmet shortbread a couple of days before we left though failed to take any photos of it. I call them 'gourmet' as they are possibly the most tedious shortbread I've ever made and as a result the best tasting – they've got chia and poppy seeds and the recipe asks for a teaspoon of almond extract, which makes it uniquely taste of almond. You won't see any of it here unfortunately, so you'll just have to take my word for it. But whoopee, the crackers and scones follow below…
We were thrilled when we found the recipe for the crackers as they were something Leon hadn't had since being diagnosed as a Coeliac about eight years ago. These are sesame salted crackers. They seem to work with any gluten-free flour as I've been experimenting with the different kinds we have at home, and have always been successful. I have also been trying a variety of flavors making use of some staple herbs and spices.
We made two batches for the trip. One out of buckwheat, the other out of rice flour. To begin, the buckwheat flour, sesame seeds, xanthan gum and baking powder are mixed together.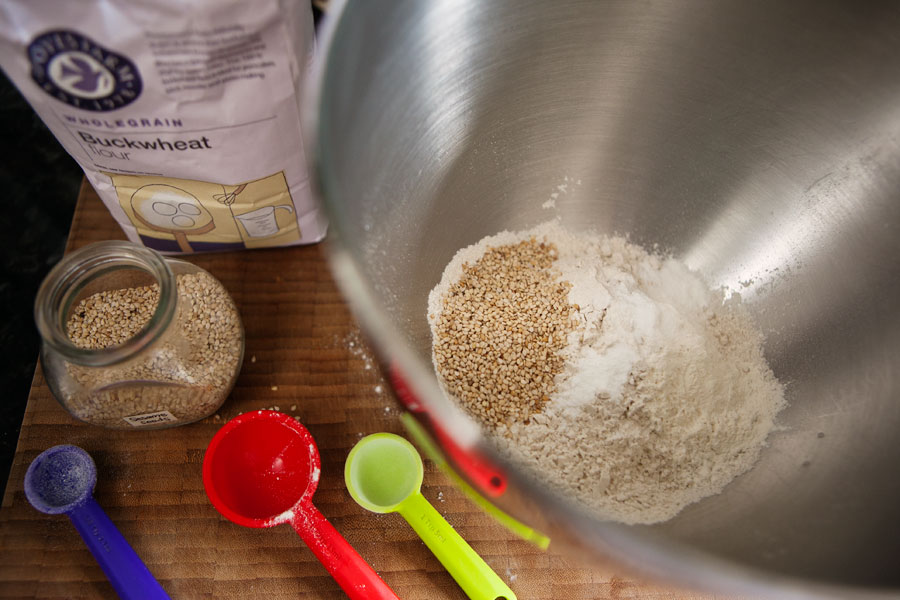 Butter and water are then added to make a ball of dough that nicely comes together.
Dusting the work surface well really helps especially when working with gluten-free flours. We like to roll out the dough thinly so the crackers bake through to a perfect crisp.
Using a sharp knife or pizza cutter, cut the rolled out dough into any shapes you wish.
Brush the surface with a mixture of egg and milk then sprinkle with flavors. We always use sea salt and freshly ground pepper; we also do varieties with garlic powder, other dried spices and herbs. You can be as imaginative as you like.
They get baked in the oven for about 15 minutes then turned over and baked for a few more minutes.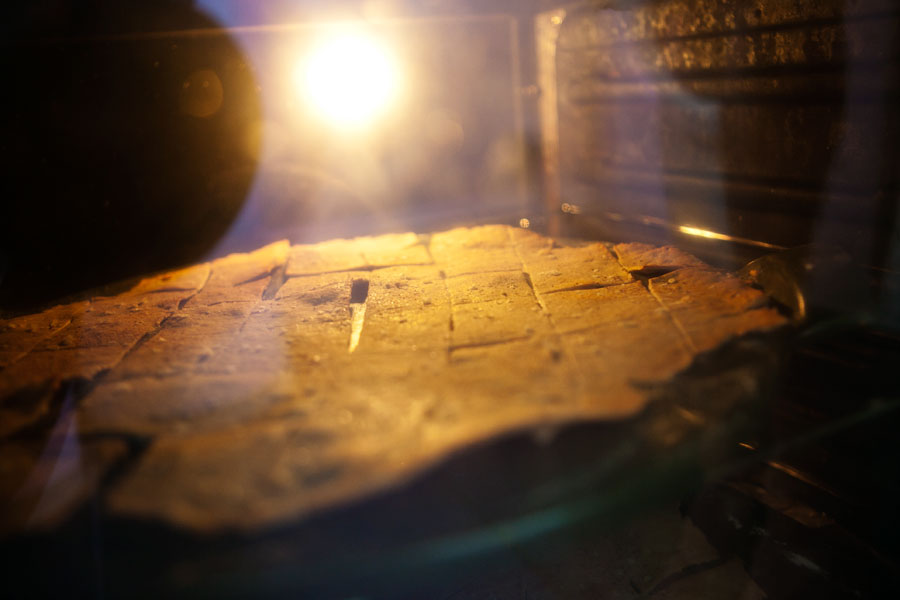 Voilà!  Sesame garlic buckwheat and sesame herb rice crackers. These are pretty addictive, it's difficult to have just a couple pieces.
When the crackers were done, it was time to make the scones.  These keep really well, and if you know gluten-free baking that's quite a rarity as anything that's bread-y tends to go rock-hard the next day or so. Therefore it isn't a surprise that Leon has made these over and over, thanks to yet again, Karen Morgan and her magnificent book.
We start off by making buttermilk out of rice milk and vinegar. To this add gelatin and set the mixture aside.
Zest a lemon and add it to the dry ingredients and butter mixture…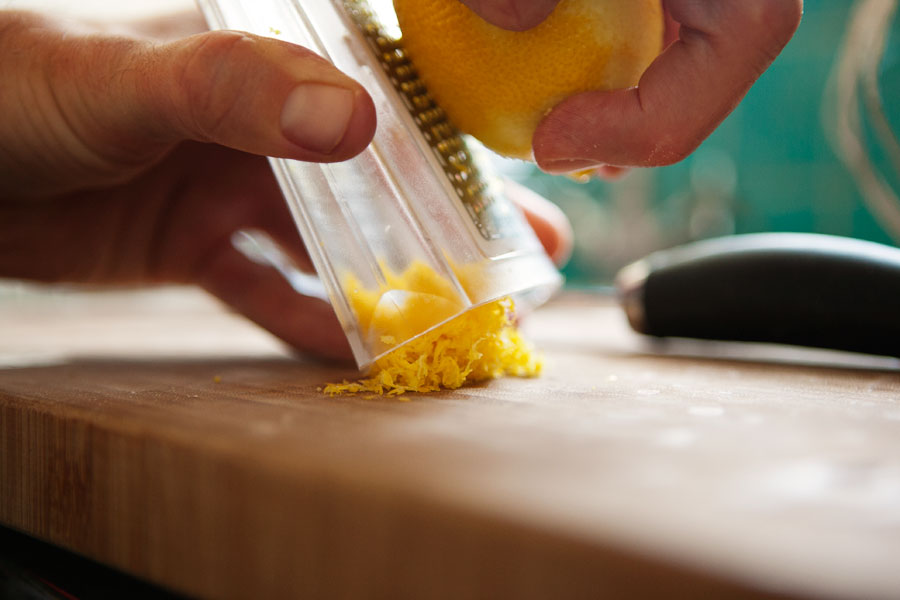 Sorghum, corn, tapioca and glutinous rice flours along with guar gum, baking powder and soda, salt, sugar are combined. Butter is then added and mixed into the dry stuff, followed by the lemon zest and cranberries. The buttermilk that's been set aside is poured over and everything is stirred together until you have a ball of dough that is quite sticky.
Dust your work surface well with the rice flour and it helps to do the same with your hands. Pour the dough out onto the dusty surface and let the fun begin. Knead the dough until it is no longer sticky. Leon likes to roll it into a cylinder which he then cuts into sections so he ends up with bigger than usual scones.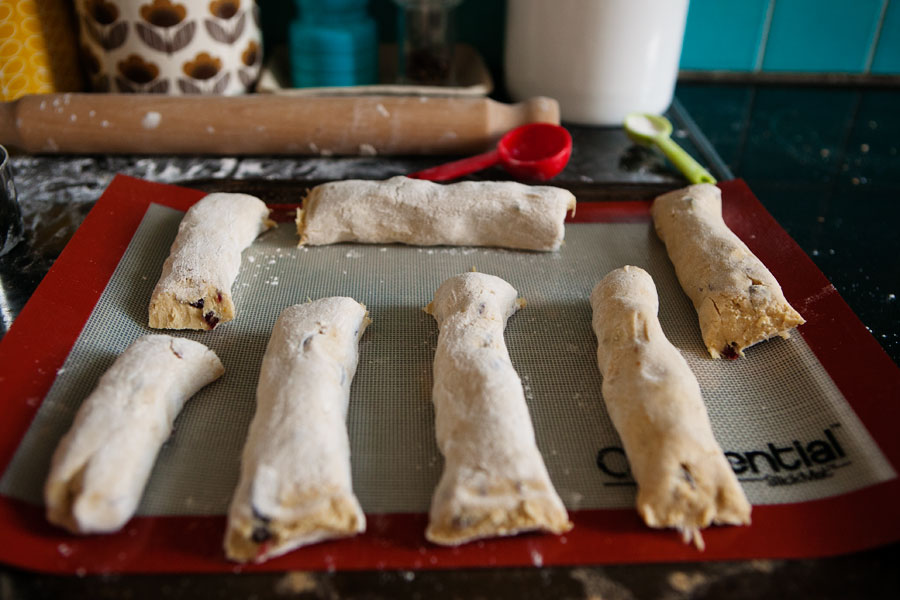 While waiting for your scones to bake, inhale the comforting aromas of baked goodies wafting from the oven and admire the beautiful mess you've created.
After about 20 minutes of baking, devour the scones. They are best served warm though still very enjoyable otherwise. We love them with strawberry jam and have on occasion gone all-out-Brit topping them with dollops of cream.